Mary Robinson's speech to women lawyers now online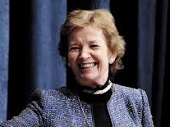 Former President Mary Robinson's speech to the Irish Women Lawyers Association (IWLA) AGM has been published online.
Mr Robinson discussed her new book, Climate Justice, at association's AGM last month.
Her talk and Q&A was followed by a book signing and a wine reception sponsored by the Law Society of Ireland and Hunter Savage.
You can now watch her address on the IWLA website.