Mary Robinson to speak on Afghan situation at IWLA event tonight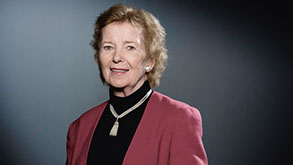 Former president Mary Robinson will discuss the situation in Afghanistan this evening at a panel discussion hosted by the Irish Women Lawyers' Association (IWLA).
Mrs Robinson, currently adjunct professor of climate justice at Trinity College Dublin, will discuss issues relating to law and women in Afghanistan.
She will be joined by Mary Ellen McGroarty, currently on the ground in Afghanistan with the World Food Programme (WFP); Fereshta Abbasi, human rights lawyer with the British & Irish Agencies Afghanistan Group; and Mari Skåre, the Norwegian ambassador to Ireland and former Norwegian ambassador to Afghanistan.
The online event, taking place from 6.30pm tonight, will aim to raise money for Médecins Sans Frontières Afghanistan. Tickets are available from Eventbrite.