Lawyer of the Month: Adam Griffiths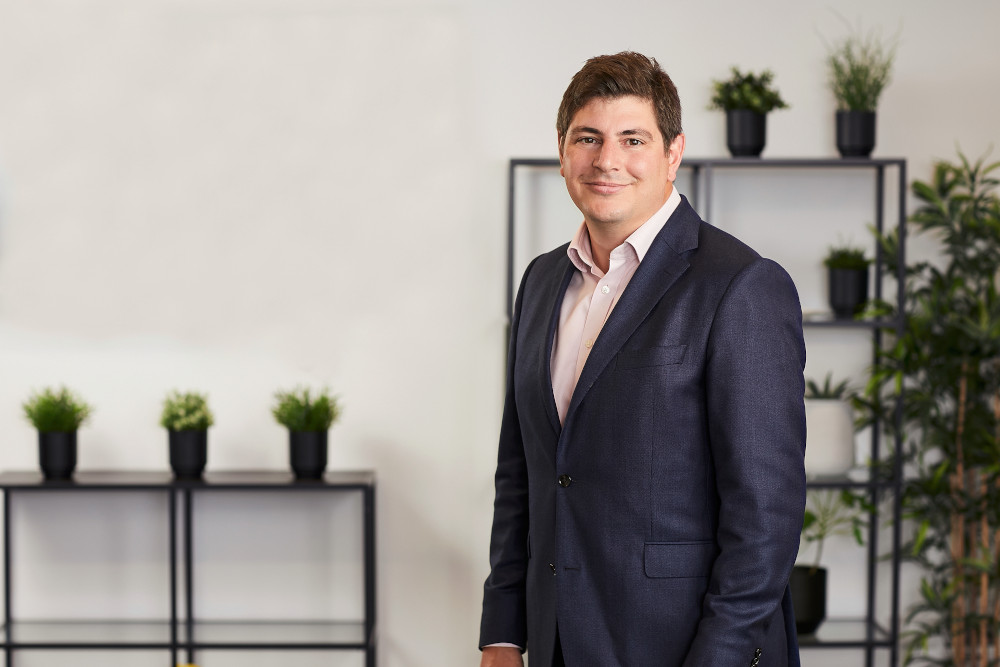 When global law firm Taylor Wessing opened its first Irish office in Dublin just over a year ago, it had strategic growth plans to support international technology and life sciences sector organisations with its own specialist advice.
Its base in a Georgian townhouse in the city's Ely Place by St Stephen's Green now brings the firm's total office count to 29 in 17 countries. Adam Griffiths, brought in to head the Dublin office, specialises in M&A, private equity and venture capital transactions, primarily working with clients in technology, media and communications, and life sciences and healthcare.
He agrees that Taylor Wessing's decision to establish a presence in the city is part of a wave in recent years that has included Cadwalader, Hogan Lovells, Ashurst and Linklaters, as well as some very large firms such as DLA Piper and Dentons — for several reasons that include the implications of Brexit requiring them to have a base in the EU to better access certain European legislative bodies.
However, he stresses: "Taylor Wessing's decision to come to Ireland was because one of our major selling points to clients is that we're deeply embedded in the technology and life sciences sectors — so it's important for us to be present in key markets such as this, with Dublin's dynamism complemented by Cork and Galway recognised as being among the leading life sciences, tech and innovation hubs in the world."
Earlier this month Taylor Wessing sponsored the 'Launching Future Disruptive Technologies' (LFDT) Summit at UCC hosted by the Tyndall Institute. While the Irish 'start-up and scale' ecosystem is performing strongly and producing world-class technology companies, Mr Griffiths believes that indigenous enterprises are still disproportionately reliant on international capital to fund their growth.
"It was commented at the summit that it was the first instance in a very long time that stakeholders from academia, government, spinout founders and venture capital had been in the same room discussing what was working and what wasn't working in this area, addressing the tensions that exist in taking something that's incubated in a university then enabling it to obtain funding and begin a commercial life out in the real world," he says.
"That's quite a complicated, delicate process and we think that LFDT achieved a great deal in terms of all these people understanding each other better."
Collaboration is a recurring theme with Mr Griffiths: the government's aim is to increase the number of spinouts by 25 per cent by 2024, but he stresses that will not be achieved with money alone and that there are significant opportunities to increase the level of co-operation between the colleges and the PhDs who create the start-up companies, supported by agencies such as Knowledge Transfer Ireland and Enterprise Ireland.
"At Taylor Wessing, we are very well placed to help with this transfer and want to work with deep-tech HPSUs," he adds.
Mr Griffiths, who is qualified in Ireland and in England and Wales, with experience in managing cross-border transactions, gained a BA in Modern History and International Relations at the University of Reading before taking his LLB at the College of Law (which became the University of Law in 2015).
He had worked as a senior associate in Taylor Wessing's private equity group in London before moving to Ireland in 2017 with his wife ("she won the arm wrestle as to where we would live") to join Ronan Daly Jermyn in Cork, then became an M&A partner at ReganWall before returning to Taylor Wessing as partner and head of the firm's Dublin office.
He lives in Cork with his wife and two small children, which he says allows him a fantastic quality of life: "The kids' crèche is 400 yards away from home, there's a National School across the road and there must be few other places that offer that kind of wonderful lifestyle, allowing me to play football and golf and also to be part of a dynamic, international law firm."
The work-life balance at Taylor Wessing has been described as one of the firm's strengths, which certainly chimes with the home life Mr Griffiths has carved out.
Career-wise, he has concentrated on corporate law, advising institutional, corporate and individual investors and the companies they invest in, on a range of matters that include venture, growth and development capital investments — so being recognised as an investment destination of choice for more than 1,000 multinational companies, the attraction of being based in Ireland is increasingly obvious.
He's also a keen commentator on legal issues in the country's press, arguing in the Irish Examiner earlier this month that the country's technology and life science spinouts could benefit significantly from national efforts to foster links between universities, state agencies and the global investment community.
"At a time of global economic uncertainty, it's critical that the Irish government looks at new ways to support domestic innovation, particularly in key growth industries including artificial intelligence, blockchain, digital, deep-tech and robotics technologies," he said — while Taylor Wessing has also endorsed the Irish Venture Capital Association's call for a percentage of new pension scheme payments to be allocated to funds investing in indigenous enterprises.
Mr Griffiths was also quoted in The Sunday Times during the summer as a passionate advocate of creating an ecosystem in Ireland to nurture Irish unicorn companies: those with a valuation of more than $1 billion and of which there are only seven in the country (including Flipdish, TransferMate and Workhuman), against some 1,000 globally.
He believes that though the recently announced €500 million Irish Strategic Investment Fund (Isif) to enhance regional growth is welcome, especially as it has a focus on start-ups, fledgling unicorns need more than a cash injection; they also need advisers, mentors and connections that allow them to reach scale on an international level.
However, he's optimistic that a common trait among Ireland's unicorns is that they share an international mindset from the start and hopeful that a cohort of 'futurecorns' — the hundreds of fast-growing tech companies across Ireland — will augment the existing body.
A year after Taylor Wessing established its presence in Ireland, Mr Griffiths is happy with early achievements which include advising clients on high-profile deals such as Dawn Capital, Europe's largest specialist B2B software investor, on its investment in Fonoa, a Dublin-based digital tax automation platform as part of its $60m Series B funding round.
He believes though, that Taylor Wessing is "only scratching the surface in terms of the scale of the opportunity and the potential clients that we can work with in Ireland — and I'm happy that the people we've brought on board are really invigorated and aligned with our vision and strategy".
He enjoys, he says, being a corporate lawyer rather than a litigator. "It's about helping to create new relationships — and if you get it right everyone feels like they've got a good deal. They're willing to embark on a new journey together and at the end of that journey is future opportunity.
"And it's also about mitigating risk when dealing with these relationships if they start to fail — so I think I could be described as a pragmatic romantic."