Last chance to apply for postgraduate Lord Kerr Scholarship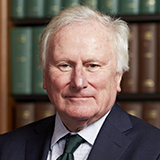 There are just two days left to apply for the Lord Kerr Scholarship at Queen's University Belfast School of Law.
Given in memory of the former Lord Chief Justice of Northern Ireland and UK Supreme Court justice, the scholarship is intended to encourage the very best home and international students to pursue their postgraduate legal studies at Queen's.
The scholarship is worth £5,000 to a domestic student or £10,000 to an international student, to be set against course fees.
Applications are invited until 17 June 2022 from exceptional students planning to pursue an LLM programme within the School of Law. More information is available from the QUB website.