NI: Landmark ruling on legacy investigations to be appealed by PSNI, NIO and DOJ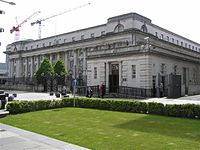 A landmark ruling on legacy investigations is set to be appealed by the PSNI, the Northern Ireland Office (NIO) and the Department of Justice (DOJ).
The Court of Appeal in Belfast ruled last month that the Chief Constable of the PSNI had not demonstrated the independence of the Legacy Investigation Branch, which was necessary for carrying out an Article 2-compliant effective investigation.
The case was brought by Margaret McQuillan, sister of Jean Smyth-Campbell, a 24-year-old woman who was shot dead in Belfast on 8 June 1972.
According to the Belfast Telegraph, the PSNI is set to appeal part of the judgment concerning its independence, while the NIO and the DOJ intend to appeal the entire judgment.
Niall Ó'Murchú of Kinnear and Co. Solicitors, representing the family, told the newspaper that the appeal represents "a callous attempt to try and block meaningful legacy investigations".
A spokesperson for the Department of Justice said: "The appeal will seek to provide clarity on issues pertaining to the obligation to investigate legacy cases in a way that satisfies Article 2 of the European Convention on Human Rights."