Lady Chief Justice officially opens new Ulster University moot court facility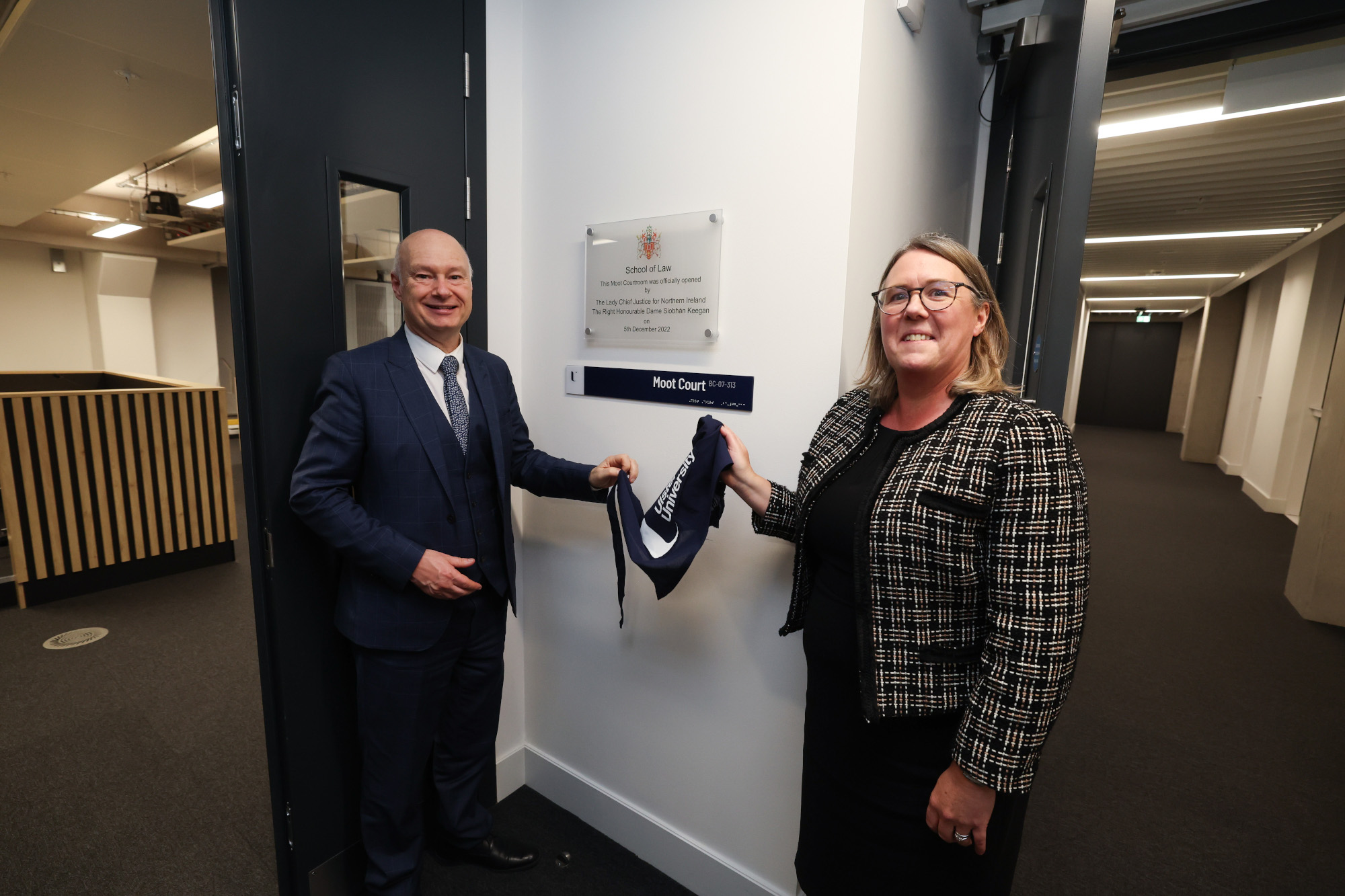 A brand-new moot court facility has been officially opened by Northern Ireland's Lady Chief Justice, Dame Siobhan Keegan, at Ulster University's new Belfast campus.
One of several specialist learning spaces on the expanded city centre campus, the moot court will be open for use by the university's law students to play the role of counsel and present their arguments.
Mooting is integral to several modules throughout Ulster University's undergraduate degree programmes and supports student to develop their understanding of the law, engage with legal topics by researching and preparing legal arguments, and to work closely with fellow students.
Postgraduate students will also have opportunities to make use of the moot courtroom for practical simulation exercises, in preparation for representing people in employment and other tribunals.
Opening the new facility, Dame Siobhan said: "I am delighted to officially open the moot courtroom at Ulster University. This is a welcome addition to the university's facility which will serve students well.
"Mooting is an important building block to becoming an effective advocate. I wish the students continued success in mooting competitions at home and further afield."
Ciaran White, senior lecturer in law and Ulster University's director of mooting, said: "The new Belfast campus offers the latest technology and facilities and for our law students this includes access to this state-of-the-art mock courtroom.
"Confidence in presenting oral argument is an essential element of student learning and readiness for professional practice. By having this facility on campus, with the opportunity to record and playback the hearings, either on campus or remotely, our students can challenge and refine their skills in a fully supported learning environment.
"Law students analyse a problem, research the related points of law, and prepare both written submissions and an oral argument. The mooting experience delivers insight into the styles of legal argument and the role of law in society, including its limitations and its shortcomings, and is part of our commitment to offering practical experience."
On the university's Derry campus, a flexible multi-use facility supports law students to experience the same moot court learning experience, with these vital opportunities across both campuses led by barristers on the University's School of Law teaching staff.
New podcasting suites for law students on both campuses are also enabling students to enhance their digital skills by exploring a range of topics from housing to money and many more.
Rachel McGreevy, a second-year Ulster University law student who has already been able to make use of the new moot courtroom facility, said: "Having the opportunity to practice in Ulster University's new moot court has helped bring what we learn in the classroom to life, boost my confidence, and given me the chance to hone my mooting skills, which will become an integral part of my future career in law.
"The state-of-the-art facility allowed me to fully prepare ahead of my first moot in a real court as I was familiar with my surroundings which made it less daunting, and therefore I was able to focus solely on the task at hand and deliver my best performance.
"I can already see the difference in just a matter of months, and I know the opportunity to use the moot court will benefit me after I graduate and go on to practice law professionally."