Kennedys appoints first-ever legal directors in Dublin and Belfast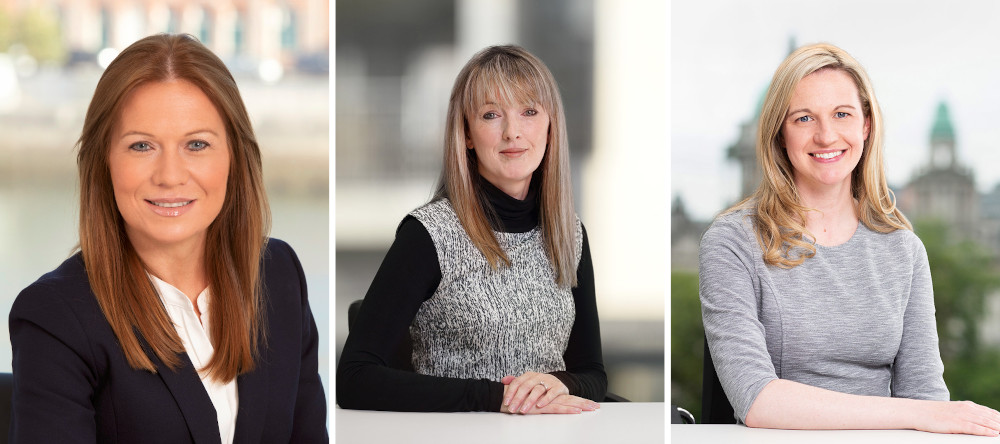 Global law firm Kennedys has announced the appointment of its first-ever legal directors in Dublin and Belfast as part of a record promotions round.
Dublin lawyer Martina O'Mahoney and Belfast-based Frances Thompson and Megan Boyd have been appointed as legal directors, a new role which aims to recognise experienced and technically excellent lawyers who have progressed beyond the senior associate level.
Meanwhile, insurance lawyers Erin Turner, Mark Dunne, Michael Prior and Shanna Dunne and liability lawyers Cian McGrath and Graham Duggan have been appointed as senior associates in Dublin.
Across its 43 global offices, Kennedys has promoted 86 associates to senior associate and appointed 46 people as legal directors or equivalent roles in its largest-ever promotions round.
Global senior partner Nick Thomas said: "The fact that we have been able to make so many promotions this year is testament to how members of our global team have risen to the challenges presented by the pandemic and have demonstrated renewed dedication, hard work, commitment and resilience. We're all the stronger for it."
Global managing partner Suzanne Liversidge said: "Congratulations to all 132 who have been promoted. They deserve it. The promotions send a clear message that we offer great progression opportunities across the firm. We want to keep developing career structures that attract and retain top talent across our global offices."
Those progressing to legal director or equivalent roles, including Ms O'Mahoney, Ms Thompson, Ms Boyd, will be invited to take part in the firm's global leadership programme to further build their practice and market presence.
Caroline Wilson, global HR director, added: "Attracting and developing talent is key to Kennedys continued growth. The role has been in place in Australia for a number of years, and we've now introduced it globally. The creation of the legal director role is part of our continued efforts to invest in our people across the business, whether it's those at the very start of their careers or our senior fee-earners.
"This change to our career structure gives our lawyers a clear understanding of what they need to do in order to progress their careers at Kennedys, with different options available to suit individuals' particular skills and experience."