Irish Legal Heritage: The Murder of Tomás MacCurtain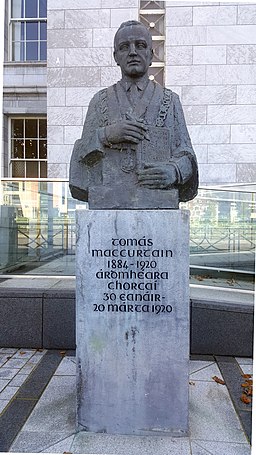 The first Republican Lord Mayor of Cork, Tomás Mac Curtáin, was born on 20 March 1884 in the townland of Ballyknockane, about fifteen miles north of Cork City.
When he was 13, Tomás moved to the Blackpool area of Cork City, where he attended North Monastery secondary school. It was around this time that Tomás met the man who would succeed him as Lord Mayor, Terence MacSwiney (Fionnuala Mac Curtain, Remember it's for Ireland: A family memoir of Tomás Mac Curtáin (Mercier Press 2008), 20).
Tomás was passionate about Irish culture and joined the Blackpool branch of Conradh na Gaeilge, becoming secretary of the branch at the age of 18. It was here that Tomás met Elizabeth (Eilís) Walsh, a talented concertina player from Bandon who he married on 28 June 1908.
Tomás was a revered member of the Irish Republican Army when he was elected as a Sinn Féin councillor for Cork and appointed to the position of Lord Mayor. Less than two months later, in the early hours of the morning of his 36th birthday on 20 March 1920, Tomás was assassinated in the family home above his clothing shop on 40 Thomas Davis Street, Cork.
An inquest into the death found that Tomás was "…wilfully murdered under circumstances of the most callous brutality, and that the murder was organised and carried out by the Royal Irish Constabulary, officially directed by the British Government, and we return a verdict of wilful murder against David Lloyd George, Prime Minister of England; Lord French, Lord Lieutenant of Ireland; Ian McPherson, late Chief Secretary of Ireland; Acting Inspector General Smith, of the Royal Irish Constabulary; Divisional Inspector Clayton of the Royal Irish Constabulary; District Inspector Swanzy and some unknown members of the Royal Irish Constabulary." (The Killing of Lord Mayor Tomás MacCurtain)