Irish Legal Heritage: Constance Markievicz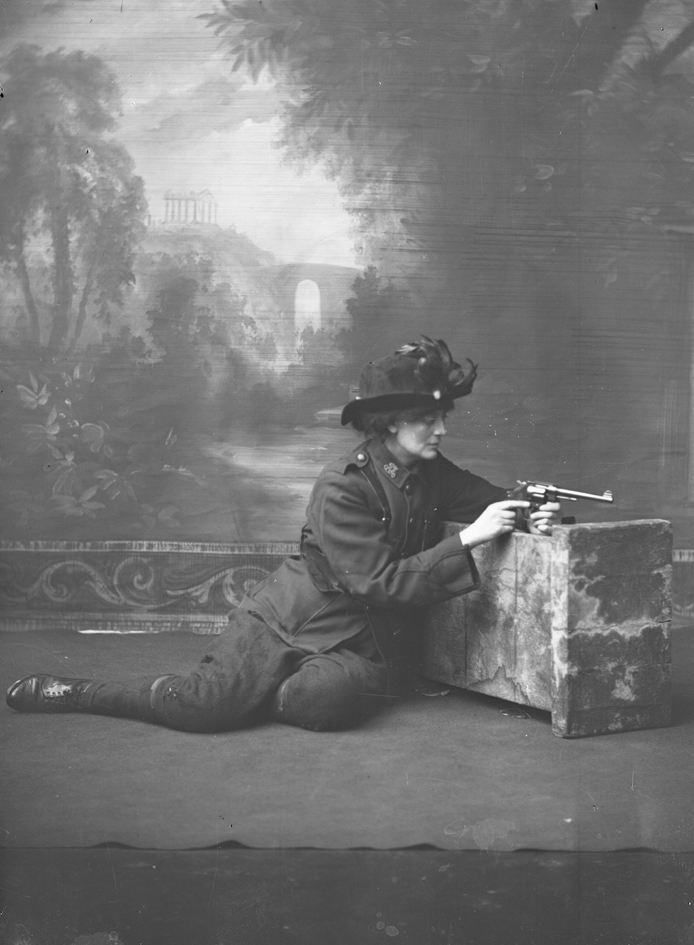 The general election of December 1918 was the first time that women were able to exercise their right to vote in Britain and Ireland. Although the Representation of the People Act 1918 did not provide for equal voting rights – it was only female property owners over the age of 30 who were allowed to vote – it was a momentous victory for British and Irish Suffragettes. Of seventeen female candidates in Britain and Ireland, Constance Markievicz was the first woman to be elected to the House of Commons.
Constance Georgina Gore-Booth was born in London on the 4th of February 1868, the first child of Sir Henry and Lady Georgina Gore-Booth. She was brought home to Lissadell House in Sligo soon after her birth, where she grew up with extended family in a household full of strong personalities. Her father, who owned nearly 32,000 acres of land in Sligo, has been described as a benevolent landlord who had a paternalistic relationship with his tenants, her mother was a philanthropist who managed the vast estate when her husband went on his many 'pioneering expeditions in the icy waters of the arctic', and her aunt 'Wee Ga' was of small stature but 'formidable will' (Haverty, 2016). Their influence undoubtedly inspired Constance's extraordinary character; an Irish revolutionary and socialist who had an 'aristocratic impulse to kindness' since she was a child.
The townland of Lissadell, where the House still stands with its famous gardens, is no stranger to Irish folklore, the Humours of Lissadell is still a popular reel in Irish traditional music. Famously, W.B. Yeats was a friend of Constance and her sister Eva, and often stayed with them at Lissadell House when they were in their early twenties. Yeats' time in Lissadell and his friendship with the Gore-Booth sisters was immortalised in his poem, 'In Memory of Eva Gore-Booth and Con Markievicz':
The light of evening, Lissadell,
Great windows open to the south,
Two girls in silk kimonos, both
Beautiful, one a gazelle.
Constance and Eva were both committed to women's rights and became famous Irish Suffragettes. Constance became politically active during her time as a student at Slade School of Art in London, where she was inspired by the movement for women's suffrage. Having married Casimir Markievicz in 1900, Constance returned to Ireland as 'Countess Markievicz' – although Casimir's title as a Count has since been disputed. Constance eventually joined Sinn Fein and Inghinidhe na hÉireann in 1908, and by 1914 her impressive reputation as a revolutionary gained her the position of President of Cumman na mBan. As a member of the Irish Citizens Army, Constance fought in the Eater Rising and was sentenced to death for her involvement. Her sentence was, however, commuted to penal servitude for life 'on account of her sex', but she was eventually released in 1917.
She stood for election in the 1918 general election on a Sinn Fein ticket, and so abstained from taking her seat in the House of Commons. Along with other abstentionists, Constance was a member of the First Dáil Éireann – although she was again imprisoned when the Dáil first met in Dublin. A woman of many firsts, in April 1919, Constance made history again as the only female Cabinet Minister in Irish history until 1979.
In July 1927, she died at the age of 59 surrounded by her friends and family at her bedside. Although the free state government had refused a state funeral, her funeral procession was watched by thousands, and Haverty writes that Constance's last journey, 'lacking official pomp but replete with spontaneous love, was in keeping with her life'.
Seosamh Gráinséir