Irish language group wins judicial review against Northern Ireland Executive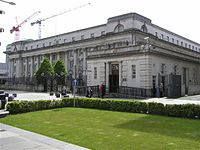 Northern Ireland's High Court has ruled in favour of Irish language group Conradh na Gaeilge in a judicial review regarding the failure of the Northern Ireland Executive to adopt an Irish language strategy.
Mr Justice David Scoffield ruled that the Executive was in breach of its statutory duty under section 28D of the Northern Ireland Act 1998, noting its "lengthy period of failure" to adopt such a strategy.
The Act states: "The Executive Committee shall adopt a strategy setting out how it proposes to enhance and protect the development of the Irish language."
The judge said the next Executive must resolve the outstanding strategy "expeditiously".
This morning's ruling builds on a previous ruling by the High Court in 2017, which granted a similar declaration.
Solicitor Mícheál Ó Flannagáin, acting on behalf of Conradh na Gaeilge, said: "The High Court this morning has issued a second declaration that the Executive failure to adopt an Irish language strategy was unlawful and in breach of a statutory duty.
"Judge Scoffield had no hesitation in finding that the Executive was in breach of this legal duty noting that after the NDNA agreement that 'it was incumbent upon the Executive to act with alacrity and had failed to do so'.
"The court also dismissed any suggestion that the Executive had no power to advance the implementation of the strategy itself. This is an important finding as well.
"Most importantly the court has issued a further declaration noting that any incoming Executive Committee will be expected by the court to act expeditiously."