#InPictures: Law student Vivien Loughrey wins JMK Solicitors Prize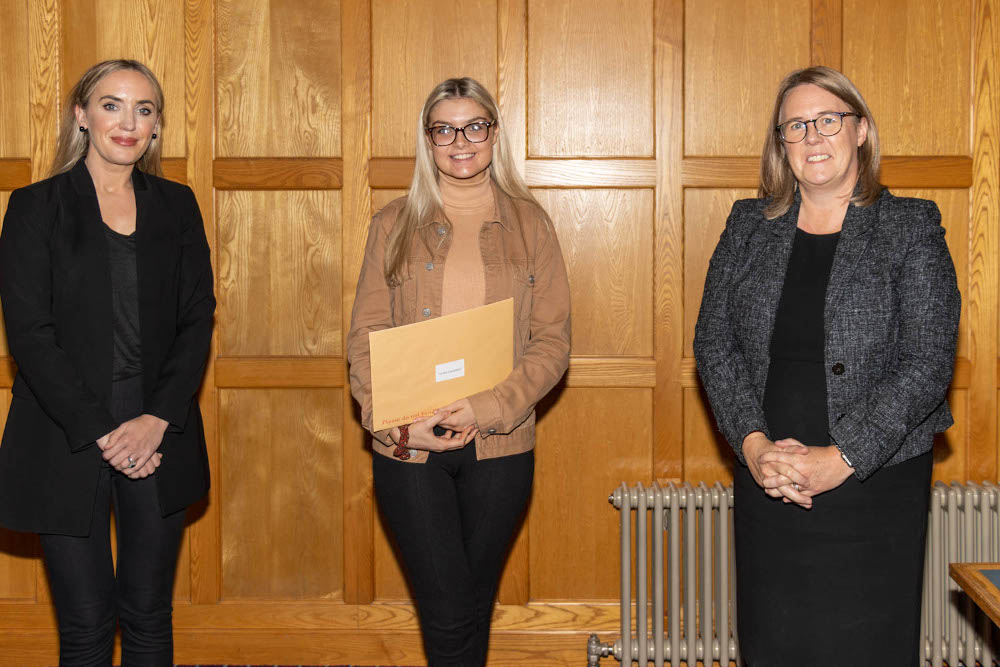 Queen's University Belfast (QUB) law student Vivien Loughrey has been presented with the JMK Solicitors Prize, worth £3,000.
Ms Loughrey received the prize after achieving the highest mark in her tort law module, as well as meeting the widening access criteria set by the university.
The widening access programme aims to support students who have the ability to succeed in higher education, irrespective of socio-economic background, disability, ethnicity, political opinion, gender, marital status, sexual orientation or age.
JMK Solicitors, which specialises in personal injury and road traffic accident law, launched the student prize in 2019 in conjunction with QUB.
Ms Loughrey said: "I am so thankful to be receiving this scholarship from JMK Solicitors. Receiving this scholarship has inspired me and motivated me to continue working hard as I feel that the work and effort I put in does not go unnoticed.
"The scholarship was the perfect boost to starting my third year as it has inspired me to continue with my work ethic and the funding will help me to continue enjoying student life in Belfast.
"I am very grateful to JMK Solicitors for providing me with this scholarship and bettering my university career."
Olivia Meehan, legal services director at JMK Solicitors, said: "We are very pleased for Vivien, who I was delighted to meet and who has done exceptionally well. We wish her every success in her degree and future career."
She added: "We are keen to recognise and reward the efforts of the next generation of lawyers. We think it is crucial to support students who go the extra mile in the study of tort law, which relates to what we do at JMK in seeking compensation for those who suffer personal injury, loss or damage caused by a civil wrong."
"We are also very pleased to support Queen's, a leading UK law school with a long-established reputation for producing highly educated and skilled law graduates to include several of our team at JMK."