NI: High Court to hear legal challenge to search and arrest operation targeting journalists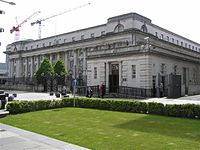 A legal challenge to a search and arrest operation targeting Northern Ireland journalists Barry McCaffrey and Trevor Birney will be heard by the High Court in Belfast in May, the Belfast Telegraph reports.
The journalists, who were involved in the making of No Stone Unturned, a recent documentary about the 1994 Loughinisland massacre, were arrested, questioned and released last year as part of an inquiry into the alleged theft of documents from the Police Ombudsman's Office.
Lawyers representing the journalists and filmmakers Fine Point Films argue that material was taken which was not covered by the search warrant.
Lord Justice Treacy, sitting with Mrs Justice Keegan, yesterday granted leave for a judicial review on all grounds of challenge.
The case will be heard over three days in May.