Hayes Solicitors event hears boardroom harmony is 'key challenge' for Irish firms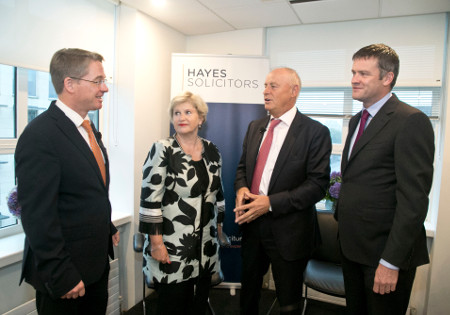 Conflicts of interest, diversity and the need to enlarge the talent pool for senior non-executive board appointments were among issues discussed at a Hayes Solicitors event this morning.
The corporate governance panel discussion was moderated by Ken Casey, partner and head of corporate law at Hayes Solicitors, and featured Maurice Pratt, chairman of Uniphar, and Maura Quinn, chief executive of the Institute of Directors.
They discussed the need to tackle problems found in Irish boardrooms from the top down and the importance of engagement with investors to communicate company strategy and give context for future decisions.
Speaking after the event, Mr Casey said: "This morning's event has highlighted that the way in which corporate leaders manage relationships and build culture within their businesses, particularly within their boardrooms, has a huge effect on business success.
"The creation of a strong corporate culture for a business starts with the tone from the top and with the key relationships between the Chair, the CEO and the board. The themes dealt with today are relevant across all sectors and research indicates how developing good corporate governance is repaid in improved business performance and responding robustly to risk across Ireland's corporate landscape."
Ms Pratt told the event: "Succession planning at all levels is a crucial issue, deciding on the correct term for the CEO and getting the board balance right is essential for every successful business."
Ms Quinn added: "There has never before been greater scrutiny on Directors and boards in Ireland from all stakeholders. All Directors and Boards must take responsibility to ensure that they meet and adhere to the highest standards of probity, not because they should, but because it's the right thing to do, and in the best interests of their businesses."
Hayes said it hosted the event in recognition of the importance of these issues to their clients, and to provide advice on how best to tackle them.