NI: Full-time nurses to be introduced in all PSNI custody units next year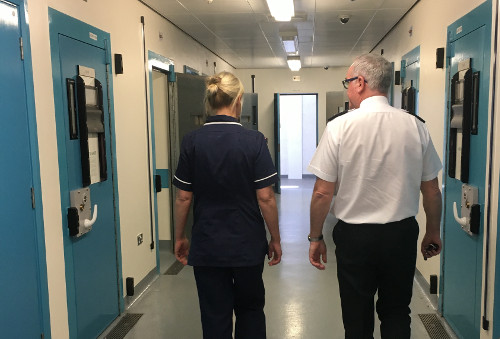 All PSNI custody suites are set to have on-site nurses by next September, bringing Northern Ireland in line with most UK police forces.
The first phase of the new embedded service, costing around £500,000, was implemented at Musgrave Station in Belfast in October.
Specially-trained Custody Nurse Practitioners (CNPs) from Belfast Health and Social Care Trust now work as part of the custody team at Musgrave Station, adding to the safer detention of vulnerable people in police custody. Mental health nurses have also been recruited.
The new embedded service has been delivered by the PSNI, the Department of Health and the Department of Justice in partnership with the Public Health Agency (PHA).
Una Williamson, PSNI head of reducing offending and safer custody, said: "PSNI envisage the nurse-led custody healthcare model to be implemented, on a phased basis, to PSNI's other eight custody suites by September 2020.
"Prior to the service's implementation at Musgrave Station last year, custody healthcare at the 50-cell suite was physician-led and was delivered by forensic medical officers. FMOs continue to play a vital role in delivering custody healthcare in Musgrave, and continue to work on call.
"Having custody nurse practitioners embedded as part of the custody team has resulted in greater confidence in detaining people under the influence of drugs and alcohol and for minor injury not having to go to hospital. This means fewer police officers are being taken away from frontline duties and having custody nurse practitioners work as part of the team brings an additional level of reassurance and know-how to the environment."
CNPs triage detainees in custody and can assess, treat and, when necessary, refer them on as appropriate.
A spokesperson for the Department of Justice said: "The Department of Justice welcomes the new custody healthcare model, a joint endeavour which will deliver improved outcomes through enhanced collaborative working across the health and justice sectors and which is, therefore, very much in the spirit of the Programme for Government."