NI: Executive distances itself from alleged comments on Hong Kong law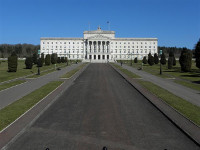 The Northern Ireland Executive has distanced itself from claims that First Minister Arlene Foster and Deputy First Minister Michelle O'Neill endorsed Hong Kong's new national security legislation.
The report came after the Stormont leaders participated in a teleconference with China's consul general in Belfast, Madame Zhang Meifang, last month.
A report from the consul general subsequently stated that Mrs Foster and Ms O'Neill had told Madame Zhang that the Executive "understands and respects Hong Kong's national security legislation".
The two ministers have moved to distance themselves from the comments. Mrs Foster has said that she would be writing to Madame Zhang to express her disappointment over the report and make clear that her position on the matter is no different to the rest of the UK government.
The First Minister tweeted: "My position on Hong Kong is the same as that of HMG. The article in today's press misrepresents what was said at our meeting with the Chinese consul general. I will be writing to Madame Zhang to underscore my disappointment."
Meanwhile, Ms O'Neill tweeted: "I made it very clear that I supported the 'One Country, Two Systems' international agreement."
Patrick Corrigan, Amnesty's Northern Ireland director, told the Belfast Telegraph: "The Chinese government says that Northern Ireland's political leaders have endorsed their draconian actions in Hong Kong and remained silent about human rights violations in Xinjiang and elsewhere in China.
"Surely this cannot be true. If this is an accurate report of the meeting, then the First and Deputy First Minister have let down the people of Northern Ireland and betrayed the people of Hong Kong and the Uighur community in China.
"We need to hear a clear public condemnation from Arlene Foster and Michelle O'Neill of what the Chinese government is doing in Hong Kong and Xinjiang."
Since the ministers distanced themselves from the comments, the report on the Chinese consulate's website has been removed.