NI: Equality lawyer Shelley Maybin featured in The Times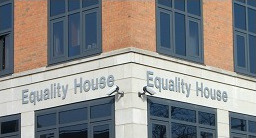 Belfast solicitor Shelley Maybin, who works for the Equality Commission for Northern Ireland, has been featured as The Times' Lawyer of the Week.
Ms Maybin acted for a transgender woman in her recent sex discrimination case against retailer Debenhams, which ended with a £9,000 settlement with no admission of liability.
Ava Moore, from Newry, applied for a job as a temporary sales assistant in the run-up to Christmas 2018 and was invited to interview, but was ultimately unsuccessful.
She said there was "a change in the atmosphere" in the job interview "after I provided my birth certificate which discloses my gender history and the fact that I am a transgender woman".
Reflecting on the case, Ms Maybin told The Times: "It was important to take on this case in this jurisdiction, where we have high levels of prejudice against the transgender community, to raise awareness of the legal protections available. It was extremely brave of Ava to go public to highlight this."
She also called for the introduction of new legislation to bring Northern Ireland's equality laws in line with Great Britain. Ms Maybin said: "For too long, big gaps have not been remedied and our laws are piecemeal."