Dr Mary Robinson to open Law Society MOOC on climate justice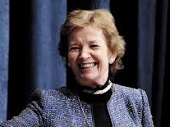 Dr Mary Robinson, former president of Ireland and adjunct professor of climate justice at Trinity College Dublin, will deliver the opening presentation of the Law Society of Ireland's new five-week online course on climate justice.
Over 2,600 people have registered for the Law Society's seventh massive open online course (MOOC), titled Environmental Law and Climate Change – Shaping a Greener Future, which starts today.
T P Kennedy, director of education at the Law Society, said: "This strong interest is a reflection on the importance of environmental law and climate action and its position as an urgent societal and inter-generational issue.
"Anyone who has an interest in the many different aspects of the climate change issue – environmental law, ecocide, fast fashion, green finance and much more – is encouraged to register and participate. You don't have to be a solicitor to participate and the course is free of charge and open to all."
The full line-up of the course is made up of leading environmental lawyers, academics, climate scientists and conservationists, including:
Conor Linehan, partner and head of the environmental law unit at William Fry
Brian Carroll, assistant secretary general at the Department of Environment, Climate and Communications
Laura Burke, CEO of the Environmental Protection Agency
Vicky Brown, CEO of Cool Planet Experience
Pádraic Fogarty, ecologist and environmental scientist at the Irish Wildlife Trust
Deirdre Robertson, psychologist in the behavioural economics team at ESRI
Aideen O'Hora, co-founder of SustainabilityWorks
Mr Kennedy said: "This MOOC is delivered as part of the Law Society's Public Legal Education initiative, which aims to increase awareness of the law by teaching people about our legal system and how the law impacts every part of our society both directly and indirectly.
"We know it has never been so important to offer accessible and reputable information. By delivering this year's course, we hope participants can have a stronger understanding and foundation about the key legal and ethical issues affecting the environment and climate change."
Registration for this year's MOOC remains open and available free of charge. Participants can continue to register after the start date and can catch up on lectures on demand.
To register and for more information see: www.lawsociety.ie/mooc