NI: Data security, Brexit, sports and US constitution claim centre stage at Belfast legal symposium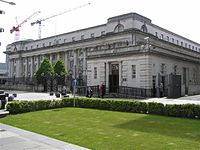 Transatlantic data security, Brexit, sports and the US constitution will all be discussed at the Belfast International Homecoming Conference's legal symposium this year.
Organisers of the event expect to welcome visiting lawyers from the US, Europe, England, Scotland and Wales to the symposium at the Royal Courts of Justice on Thursday 29th November.
The programme for the event includes a session on the impact of criminal trials, presented by Brendan Kelly QC.
The symposium will conclude with an address from Professor John Feerick Dean of Fordham Law School in New York on the very current relevant topic of the 25th Amendment to the US Constitution, on the mental incapacity of a president.
The event will close with an address by the Lord Chief Justice for Northern Ireland, Sir Declan Morgan.
The legal symposium is eligible for 3 CPD points and you can secure a discount by registering online with the code "Basketball2018".