Darach Connolly promoted to legal director at DLA Piper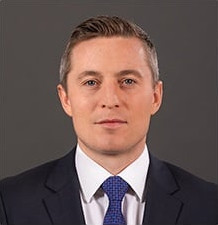 Darach Connolly, head of DLA Piper's competition practice in Dublin, has been promoted to legal director.
Mr Connolly joined the global law firm's litigation and regulatory practice in February 2020, bringing experience from his previous roles at Van Bael & Bellis in Brussels and Irish firm Matheson.
He specialises in EU and Irish competition law and advises on a wide range of EU and national competition law matters, including merger control, cartel investigations, settlement proceedings, vertical agreements, abuse of dominance, competition complaints and actions for damages.
He has a particular focus on the food, consumer, technology and life sciences sectors and also advises on competition and regulatory matters affecting the aviation sector in Europe.
Caoimhe Clarkin, partner and head of litigation and regulatory at DLA Piper in Ireland, said: "Many congratulations to Darach Connolly on his promotion to legal director. We are building a strong, highly skilled and diverse team that delivers the exceptional level of service for which DLA Piper has become known.
"Darach's first-class sector knowledge with global depth enables us to provide a unique offering to our clients and his commitment to leading the competition practice has helped strengthen the team in Dublin."
David Carthy, country managing partner for DLA Piper in Ireland, added: "Congratulations to Darach on his well-deserved promotion to legal director.
"Our highly-specialised litigation and regulatory practice supports a wide range of industries, demonstrating our strong and integrated global offering. We are delighted to meet clients' demand for a law firm in Ireland with first-class sector knowledge and truly global reach."