Courts service to pilot online appointments system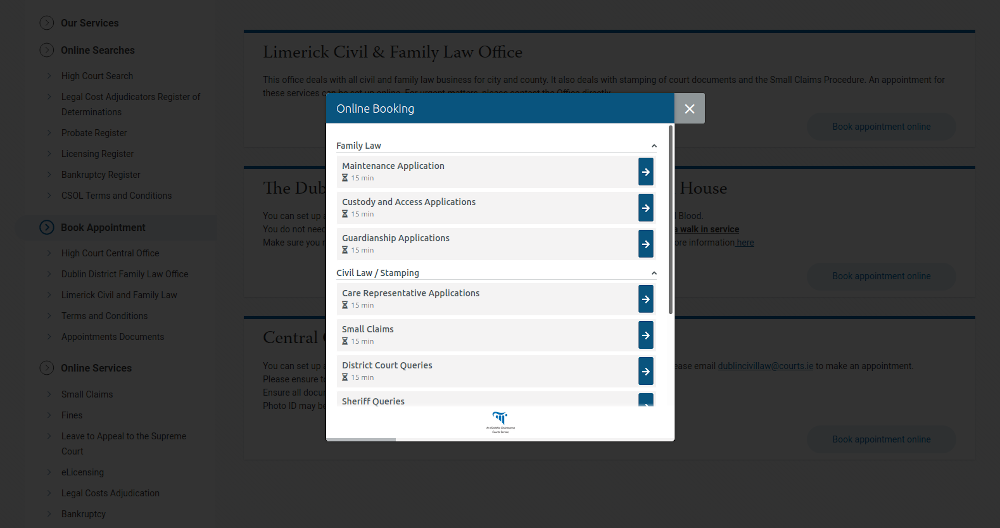 An online appointments system is set to be piloted in the Courts Service from the beginning of next week.
The pilot will become available on Monday for clients intending to visit the central office of the High Court, the Dublin family law office in Dolphin House and the civil and family court office in Limerick.

In a statement, the Courts Service said: "Over the course of the pandemic many court offices have been operating an appointment-only system for clients wishing to issue non-urgent proceedings.
"This has been a heavily labour-intensive process with appointments only set up following multiple email exchanges and phone calls from Court Service staff to court users.
"To better manage our resources and improve our service, the Courts Service is piloting an online appointment system with three offices over the coming weeks available through courts.ie."
The appointments page can now be found at courts.ie/appointments.
The pilot will be "monitored and reviewed for a few months, the experience of this pilot will inform the Courts Service Modernisation Programme Board in considering the next steps for the pilot and wider organisation", the Courts Service said.