NI: Court of Appeal overturns finding that 'six-month rule' for terminally ill benefit claimants is unlawful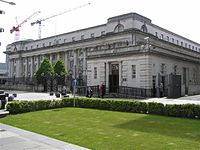 A finding that the so-called "six-month rule" for terminally ill people accessing certain benefits is unlawful has been overturned by the Court of Appeal.
The High Court ruled last summer that the requirement for terminally ill claimants to demonstrate that their death can reasonably be expected within six months is "manifestly without reasonable foundation".
The case was brought by Lorraine Cox, who was denied fast-tracked disability benefits because it was not clear how long she would survive, with the support of Law Centre NI.
Despite her diagnosis, Lorraine was required to search for work for months after medically retiring and had to undergo medical assessment for both Universal Credit (UC) and Personal Independence Payment (PIP).
The Department for Communities appealed the High Court ruling but separately committed to extending the terminal illness provision from six months to 12 months, as well as looking at further options for reform in the future, including review of the definition of "terminal illness" and the adoption of a clinical model.
Overturning the High Court judgment, the Court of Appeal said that there had been a review of the rules by politicians and that it was not appropriate for the court to intervene with the definition of the special rules on terminal illness.
Owen McCloskey, head of social security for Law Centre NI, said: "Lorraine has been resolute in her determination to ensure that no other person with a terminal illness has to endure the same experience as she did.
"She has campaigned tirelessly for a change to the rules on terminal illness and her legal challenge has been so important in highlighting the need for reform. Lorraine and Law Centre NI welcome the proposed change in legislation announced by the Minister recently and we would now like to see this legislation passed as quickly as possible."
Ursula O'Hare, director of Law Centre NI, added: "At a difficult time in her life, Lorraine has bravely sought to make the system better for everyone. We welcomed the recent announcement by the Minister of reform to the terminal illness rules, coming just before this decision.
"We hope that this case has, in some way, helped to shine a spotlight on the need for the system to be more supportive of people in similar situations to Lorraine. We will continue to monitor how the new arrangements work so that everyone gets the support they need when they need it most."