Belfast solicitor appointed honorary vice-consul of Spain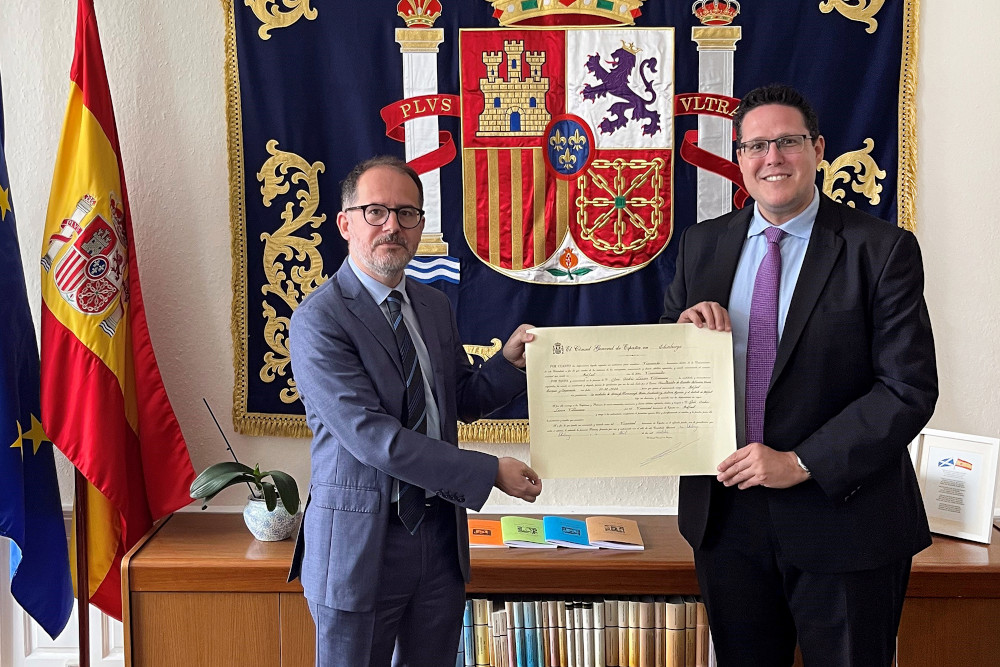 Solicitor Jose Lazaro has been appointed as the new honorary vice-consul of Spain in Belfast.
Mr Lazaro, a solicitor and abogado in the corporate and commercial team at MKB Law since 2020, is a qualified Spanish, Irish and UK lawyer, and was the first Spanish lawyer to qualify in Northern Ireland as a solicitor.
His new voluntary position is linked to the Consulate General of Spain in Edinburgh and is part of the Spanish consular and diplomatic mission to the UK.
The honorary vice-consul of Spain in Belfast has jurisdiction over the counties of Antrim, Armagh, Tyrone, Down, Fermanagh, Derry/Londonderry and the city of Belfast, and can provide a range of consular services to people of all nationalities living in these areas.
In this role, Mr Lazaro can assist with NIE (Foreigner Identity Number) applications directly from Belfast, Spanish passport applications for children under 12 years of age, Fe de Vida, and the certification of documents.
During his career, Mr Lazaro has worked in a variety of legal settings on multiple corporate deals for firms across Northern Ireland and Spain. He has developed extensive experience in corporate, finance and commercial law and in cross-border business transactions such as IT and IP law, maritime law, customs law, international trade and transport.
He also advises companies and individuals with interests in Spain on a range of local, regional and international legal matters such as sale-purchase of property, complex cross-border probate and inheritance matters and business law.
His patent letters were presented to him at a recent ceremony hosted by the Consul General of Spain in Edinburgh.
Mr Lazaro said: "I would like to thank the Consul General of Spain in Edinburgh, Ignacio Cartagena Nuñez, and all the team of the Spanish Consulate General in Edinburgh for this opportunity. Further thanks to my predecessor Trevor McBurney, and my colleagues at MKB Law for their support."