NI: Attempt to railroad anti-abortion bill through Stormont fails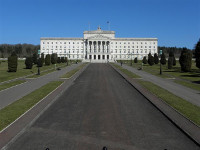 A last-ditch attempt to stop the decriminalisation of abortion in Northern Ireland by rushing a bill through Stormont in a single day has failed.
The Democratic Unionist Party (DUP), which is opposed to abortion in all circumstances, attempted to introduce the Defence of the Unborn Child Bill 2019 yesterday at the devolved legislature's first meeting in two-and-a-half years.
The Northern Ireland Assembly has not met since the collapse of the Executive in January 2017, and cross-party talks have so far failed to reach agreement on restoring the devolved institutions, but it was recalled yesterday after a petition was signed by more than 30 MLAs.
However, outgoing Speaker Robin Newton insisted that members could not debate legislation without the election of a new Speaker.
The election of a Speaker requires cross-community support and could not take place after MLAs from the SDLP left the chamber, leaving only DUP, UUP and TUV MLAs.
MLAs from Sinn Féin and the minor Alliance Party, Green Party and People Before Profit refused to attend altogether.
DUP MLA Paul Givan called for the Assembly's standing orders to be suspended to allow for the introduction of his anti-abortion bill.
In a letter to Mr Givan, Attorney General John Larkin said the Assembly is "master of its own procedure" and could allow the bill to be considered.
Mr Newton, referring to his own legal advice, refused and the remaining MLAs walked out.
At midnight, section 9 of the Northern Ireland (Executive Formation) Act 2019 took effect, repealing a 158-year-old law criminalising abortion in Nortern Ireland – sections 58 and 59 of the Offences Against the Person Act 1861 – in the absence of a devolved Executive.
According to guidance published earlier this month, no police investigation may be carried out, and no criminal proceedings may be brought or continued, in respect of an offence under sections 58 and 59 of the Act, regardless of when an offence may have been committed.
However, other laws concerning abortion will remain in place until at least March 2020, including section 25(1) of the Criminal Justice Act (Northern Ireland) 1945, which makes it a criminal offence to assist or wilfully act to "destroy the life of a child then capable of being born alive".
By the end of March 2020, the UK government will be required to bring in new abortion regulations by secondary legislation, meeting the requirements of the UK's international human rights commitments.