Amnesty in last-ditch appeal for Troubles bill to be rejected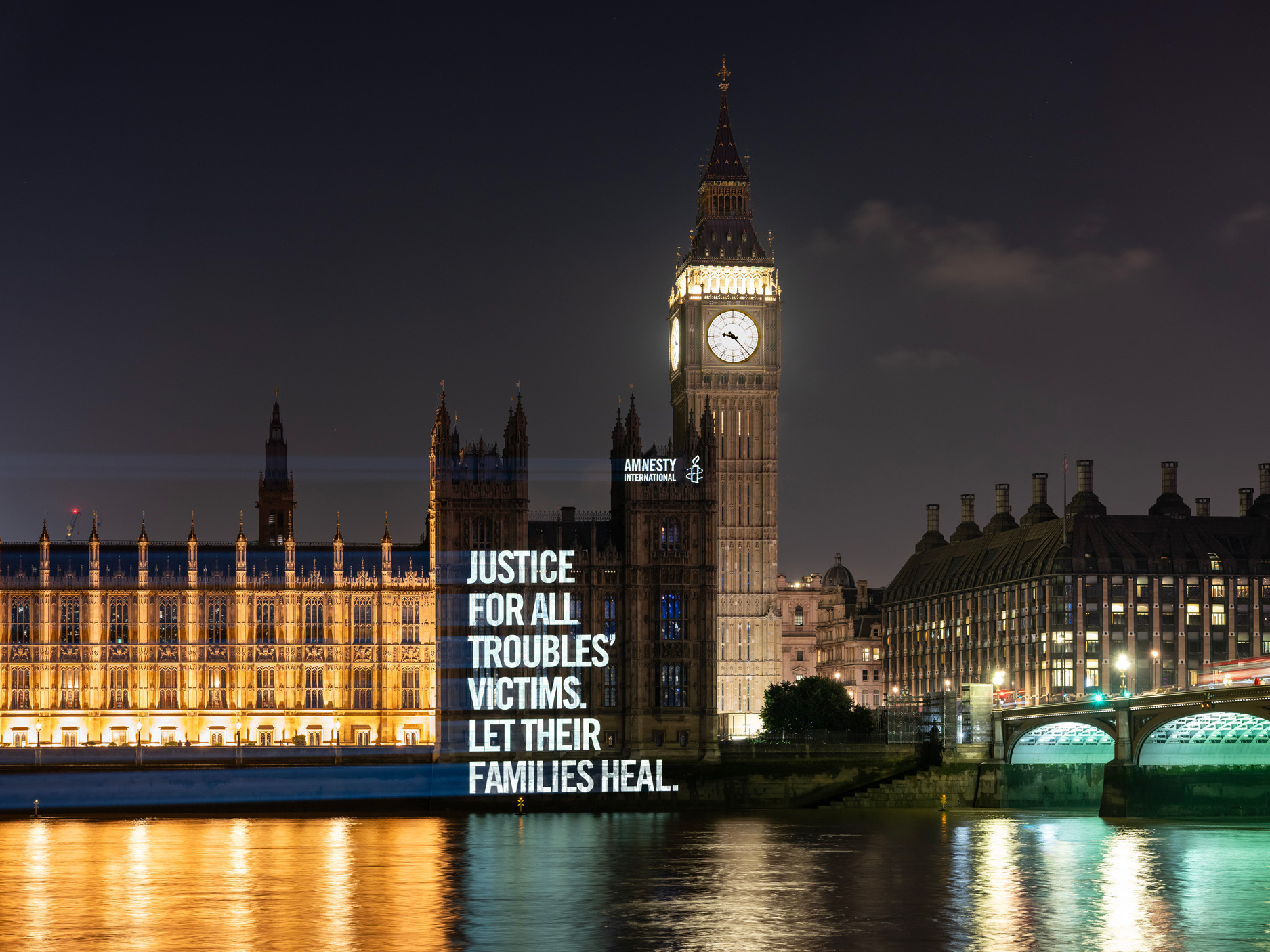 Amnesty International has made a last-ditch appeal for MPs to reject the UK government's controversial legacy plans ahead of the bill's return to Westminster this week.
The Northern Ireland Troubles (Legacy and Reconciliation) Bill will be heard in the Lords tomorrow and in the Commons on Wednesday.
The human rights organisation projected slogans images of some Troubles victims on the side of the Houses of Parliament over the weekend.
Grainne Teggart, Amnesty's Northern Ireland deputy director, said: "This is a hugely significant week for the legacy of the Northern Ireland conflict and victims' rights as the UK Government recklessly pursues a bill that only it supports.
"We are on the cusp of seeing universally opposed legislation passed which not only betrays victims but also provides a blueprint for human rights abusers all over the world.
"The projection on Parliament shows the faces of some of the victims whose families are being bitterly let down by the Government. It is a timely and critical reminder that it is the victims, not perpetrators of serious crimes, who should be prioritised.
"Perpetuating the trauma of the Troubles and condemning victims to seemingly inevitable legal challenges to have their rights vindicated is shameful.
"Amnesty is making a final call to the UK Government to scrap the Bill – and if the Troubles Bill becomes law, the Irish Government must immediately challenge it by bringing an inter-state case to the European Court of Human Rights."
The images projected included that of Majella O'Hare, a 12-year-old girl who was shot dead by a British soldier in Co Armagh; Tom Oliver, a 43-year-old farmer who was tortured and murdered by the IRA; and the three Reavey Brothers, aged between 17 and 24, who were killed by the Glenanne gang.
Majella's brother Michael O'Hare said: "I want Parliament and everyone to see my sister and pay attention to the many people being denied truth and justice. Lasting peace and reconciliation can only come when victims are prioritised and there is an agreed way forward.
"Majella's life mattered and accountability for her killing and the many other crimes committed during the conflict also matters. Shame on the Government ignoring victims and the many others who reject this bill. This is a final call to them: do not let us down — drop the Troubles Bill."