Lord Reed becomes president of the UK Supreme Court
---

---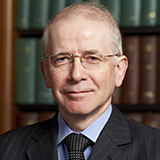 Her Majesty The Queen has approved the appointment of Lord Reed as the next president of the UK Supreme Court.
Lord Reed will succeed Baroness Hale of Richmond as president, alongside three additional appointments as justices.
The Queen has also conferred a peerage of the United Kingdom for life on Lord Reed upon his appointment, in recognition of the contribution he has made to law and justice reform.
Lord Reed will take up the position of president on 11 January 2020. Lord Justice Hamblen, Lord Justice Leggatt and Professor Andrew Burrows will join the Supreme Court as justices on 13 January, 21 April and 2 June 2020 respectively.
The Queen made the appointments on the advice of the Prime Minister and Lord Chancellor, following the recommendations of independent selection commissions.
The current President, Lady Hale, retires on 10 January 2020.
Lord Reed was appointed as a justice of the Supreme Court in February 2012 and has served as deputy president since June 2018. Prior to his appointment to the Supreme Court he served as a judge in Scotland, sitting from 1998 to 2008 in the Outer House of the Court of Session, where he was the Principal Commercial and Companies Judge, and from 2008 to 2012 in the Inner House.
He was educated at the Universities of Edinburgh and Oxford, and qualified as an advocate in Scotland and as a barrister in England and Wales. He practised at the Scottish bar in a wide range of civil cases and also prosecuted serious crime.
As well as sitting on the Supreme Court and the Judicial Committee of the Privy Council, he is a member of the panel of ad hoc judges of the European Court of Human Rights, and a Non-Permanent Judge of the Hong Kong Court of Final Appeal. He is also the High Steward of Oxford University.
Lord Reed said: "It is a great honour to succeed Lady Hale as president of the Supreme Court. In this year when we are celebrating the tenth anniversary of the opening of the court, I reflect on the achievements of the distinguished presidents who have come before me.
"I am privileged to follow them in working with my colleagues to maintain the fundamental role which the Supreme Court plays in the law of our country.
"As president I will continue to champion the rule of law, alongside promoting public understanding of the role of the judiciary and maintaining the high regard in which the Court is held around the world."
Lady Hale welcomed the appointments, saying: "I am delighted to welcome the appointments of three new justices, all of whom are distinguished in their fields, and who will join the court during 2020.
"I congratulate Lord Justice Hamblen, Lord Justice Leggatt and Professor Burrows, and am confident that they will contribute to the success of the court greatly."