Domestic violence victims could benefit from 'Sanctuary Scheme' model
---

---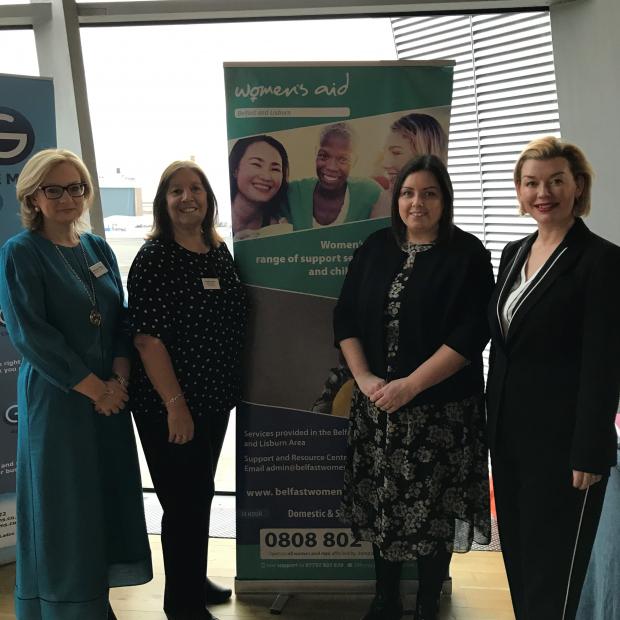 An initiative designed to make victims of domestic violence feel safer in their own homes could be rolled out in Northern Ireland.
Communities Minister Deirdre Hargey told a conference hosted by Belfast and Lisburn Women's Aid that she is considering plans to introduce the Sanctuary Scheme model first pioneered in London nearly two decades ago.
Ms Hargey, whose Department has responsibility for housing, joined experts from the criminal justice sector, including Marianne O'Kane, senior assistant director at the Public Prosecution Service (PPS), at the conference.
It took place ahead of the implementation of new legislation which will introduce a new offence of coercive control in Northern Ireland.
The newly-installed Justice Minister Naomi Long has also committed to taking forward new measures to tackle domestic violence.
The multi-agency victim-centred Sanctuary Scheme model is aimed at enabling victims to remain as safe as possible in their own homes through the provision of support and enhanced protection. It should also provide victims with a wider package of protection and support services.
Ms Hargey said: "As an Executive we are committed to working in a joined-up way, and that is why I am interested in the cross-government approach to deal with domestic and sexual abuse and violence.
"I am taking a close interest in one of my Department's actions in the current Domestic and Sexual Violence and Abuse Strategy in NI, which is to consider a Sanctuary Scheme for victims of domestic violence.
"I am looking forward to hearing more from my officials and from the Housing Executive about the best models for the delivery and promotion of the scheme. I want to ensure any scheme is fully utilised to provide victims with the choice to remain safely in their homes or seek re-housing."