TDs to debate birthright citizenship bill on Thursday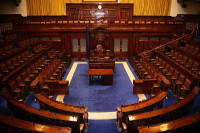 Draft legislation to restore the right to citizenship to all children born in Ireland will be debated in the Dáil on Thursday.
The Irish Nationality and Citizenship (Restoration of Birthright Citizenship) Bill 2017, brought by Solidarity TD Paul Murphy, would repeal sections 6(a) and 6(b) of the Irish Nationality and Citizenship Act 1956, as inserted by section 4 of the Irish Nationality and Citizenship Act 2004.
The constitutional right to citizenship for all children born in Ireland was removed in 2004 in a constitutional referendum endorsed by 79 per cent of voters.
However, in a video published on Facebook, Mr Murphy said: "That referendum took place in the context of very divisive and racist rhetoric by the then Fianna Fáil-PD government, attempting to blame migrants for a crisis in public services - in particular, at that stage, in terms of health. Since then, we've seen what the impact of that denial of the right of citizenship means."
He highlighted cases included that of nine-year-old Bray boy Eric Zhi Ying Xue, who was served with an order for his deportation to China despite having lived in Ireland for his entire life. The deportation order was later revoked after a community campaign.
Mr Murphy said: "We'd appeal to the Government, to Fianna Fail, to all the political parties, some of whom have supported these individual cases, not to allow more injustices like this to take place, and not to continue to have the kind of law that Donald Trump wants to introduce into America."