Spouses of highly-skilled workers from outside EEA to be given automatic labour market access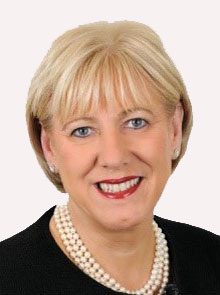 The spouses and partners of highly-skilled workers coming to Ireland from outside the EEA will now have immediate and full access to the Irish labour market without the need for an employment permit.
The new "streamlined" process was jointly announced today by Business Minister Heather Humphreys and Justice Minister Charlie Flanagan.
It affects the partners and spouses of those holding Critical Skills Employment Permits, which are designed to attract highly-skilled workers to fill high-demand vacancies where skills are not readily available in the Irish/EEA labour market, particularly in the IT sector.
One of the primary benefits of the Critical Skills Employment Permit is the option for the permit holder to apply for immediate family reunification, as well as the option for the dependent, spouse or partner to apply for a specific employment permit should they choose to work and if they find a job.
However, Ms Humphreys said the existing process was "administratively cumbersome and, in many cases, has acted as a barrier to these people securing work here", prompting inter-Departmental work to simplify it.
Mr Flanagan added: "While this scheme is primarily driven by the Department of Business, Enterprise and Innovation, it is also a prime example of proactive and positive engagement between two departments.
"Because of this work, the non-EEA spouses and partners of critical skills employment permit holders will no longer need an employment permit from the Department of Business, Enterprise and Innovation to work in Ireland.
"On arrival in the State, eligible spouses and de facto partners will be granted an immigration permission with automatic right to work. This will enable critical skills permit holders and their families to quickly become established and assist in their integration in society."