NI: Professor Colin Harvey callls for 'de-dramatised' constitutional conversation after Brexit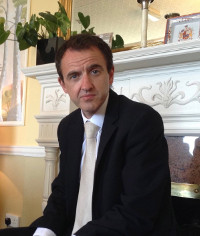 The constitutional conversation in Northern Ireland has to be "de-dramatised and normalised", Professor Colin Harvey of QUB School of Law has said.
Professor Harvey opened his address to the fourth annual Belfast Homecoming Legal Symposium with commentary on the "political and legal turbulence" caused by Brexit.
Stating that Northern Ireland was being taken out of the European Union against its will and without its consent, Professor Harvey said "the discussion about the constitutional future of this island must be faced, and work done to prepare the ground".
Commenting that language surrounding "how we share this island" needs to radically change, Professor Harvey said there "is a need to de-dramatise and normalise the constitutional conversation" and that "the preparatory work must be done properly to ensure people are clear about what will lead to a vote being held, that they understand the process, the nature of the question (or questions) and what precisely they are voting for".
He called for "some constitutional imagination and creativity when we speak about this debate, on how we design the process and how it is all taken forward in an inclusive and informed way".
"If constitutionalism really did win the day in 1998, and if constitutional status rests exclusively on democratic consent, then what precisely is the problem with asking people what they think and where they would like their constitutional future to be?", Professor Harvey posed, adding that we should "begin to prepare effectively and sensibly for a relaxed, transparent and open constitutional conversation about how we share this island".
Seosamh Gráinséir