Poland: Human rights chief ordered out by top court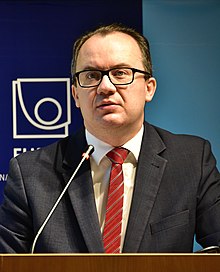 Polish human rights chief Adam Bodnar has been ordered to leave his post by the country's top court.
Mr Bodnar, widely regarded as a nuisance to Poland's authoritarian ruling Law and Justice (PiS) party, was appointed as Commissioner for Human Rights with the support of opposition parties in 2015.
His term was due to end in September 2020, but the Senate – where opposition parties have a slim majority – has been deadlocked over the selection of his successor.
Poland's Constitutional Tribunal has now ruled that a law providing that the incumbent commissioner will stay in office pending the appointment of a successor is unconstitutional and will be struck down in three months.
The move puts further pressure on the Senate to select a replacement for a role that has taken on even greater significance amid Poland's deepening rule of law crisis.
Věra Jourová, vice-president of the European Commission for values and transparency, has described the commissioner as the "the last bastion that those wanting an honest assessment of their cases could count on".
She tweeted yesterday: "We are following closely and with concern the developments relating to the [Polish] Ombudsman. It's of great importance to ensure that this institution, which defends citizens' rights and plays an important role for upholding the rule of law, remains independent."