Pinsent Masons to open third German office in Frankfurt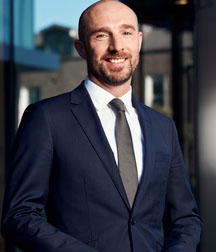 Pinsent Masons has announced plans to open an office in Frankfurt focused on the technology, energy, real estate and financial services sectors.
Welcoming the move, Dublin-based technology partner Andreas Carney said it would strengthen the international law firm's offering to Irish-based businesses.
The new office, founded by six partners, is the third Pinsent Masons office in Germany, following the firm's launch in Munich in 2012 and Düsseldorf in 2016.
Mr Carney said: "Having announced the addition of three new Partners to our Dublin office shortly before Christmas, today's announcement on our new office in Frankfurt demonstrates a further strengthening of Pinsent Masons' European network.
"Through our work with colleagues in Munich and Düsseldorf, we know Germany offers excellent opportunities for Irish-based businesses, both as the largest economy within the EU bloc, and as a leader in the technology and manufacturing sectors.
"Now with 25 offices across the world, opening in Frankfurt demonstrates our continued ambition to invest and grow Pinsent Masons' international footprint, and we look forward to welcoming such a respected and experienced group of new Partners."
Richard Foley, senior partner at Pinsent Masons, added: "Our vision is to be recognised as an international market leader in the global sectors in which we operate and our success in Germany over the last six years demonstrates that our clients value the sector specialism that we bring to the market.
"Pinsent Masons is a firm that grows together with clients, collaborating to drive innovation and change within their industries. Broadening our presence in the region enhances our ability to deliver this across Germany."