Ms Justice Mary Irvine nominated as president of the High Court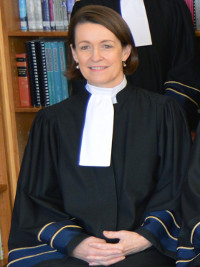 Ms Justice Mary Irvine of the Supreme Court has been nominated by government ministers as the next president of the High Court.
The Law Society of Ireland and the King's Inns have congratulated her on her nomination to become the first woman to serve as president of the court.
She will succeed Mr Justice Peter Kelly, who has held the position since 2015. The Irish Times has marked his retirement this Thursday with an extensive profile.
Ms Justice Irvine studied at University College Dublin and the King's Inns, calling to the Bar in 1978 and to the Inner Bar in 1996.
In her practice as a barrister, she specialised in medical law and was the legal assessor to the fitness-to-practice committees of both the Medical Council and An Bord Altranais.
She served on the Bar Council and as secretary to the Bar Council, and was elected in 2004 as a bencher of the King's Inns.
Ms Justice Irvine was elevated to the bench with her appointment as a High Court judge in 2007, taking charge of the personal injuries list from 2009 to 2014 and being responsible for the management and determination of all Garda compensation claims.
Following the retirement of Mr Justice John Quirke, she chaired the Working Group on Medical Negligence and Periodic Payments established by the president of the High Court in 2010 to examine the system within the courts for the management of claims for damages arising out of alleged medical negligence and to identify shortcomings in that system.
She was appointed to the Court of Appeal on its establishment in 2014 and was appointed in 2018 to chair the Cervical Check Tribunal established by the Government under the Cervical Tribunal Act 2019.
Ms Justice Irvine was appointed to the Supreme Court last year, and in April was one of four women judges who sat as part of a five-judge panel, a landmark moment welcomed as an indication of the increasing representation of women in the Irish judiciary.
Michele O'Boyle, president of the Law Society, said: "I welcome in the warmest of terms this nomination of Ms Justice Mary Irvine both as an outstandingly able judge and as the first woman in history to hold this absolutely key role in the Irish judiciary.
"She will bring the qualities of independence, deep legal knowledge and insight that have characterised her distinguished career as a judge."
Mary Griffin, CEO and under treasurer of the King's Inns, said: "In the year King's Inns is hosting a 'celebrating a century of equal opportunities legislation' series to commemorate 100 years since the Sex Disqualification (Removal) Act 1919 was enacted, it is pioneering to see a woman nominated for this prestigious role."