Matheson's Cara Scholarship launched for 2022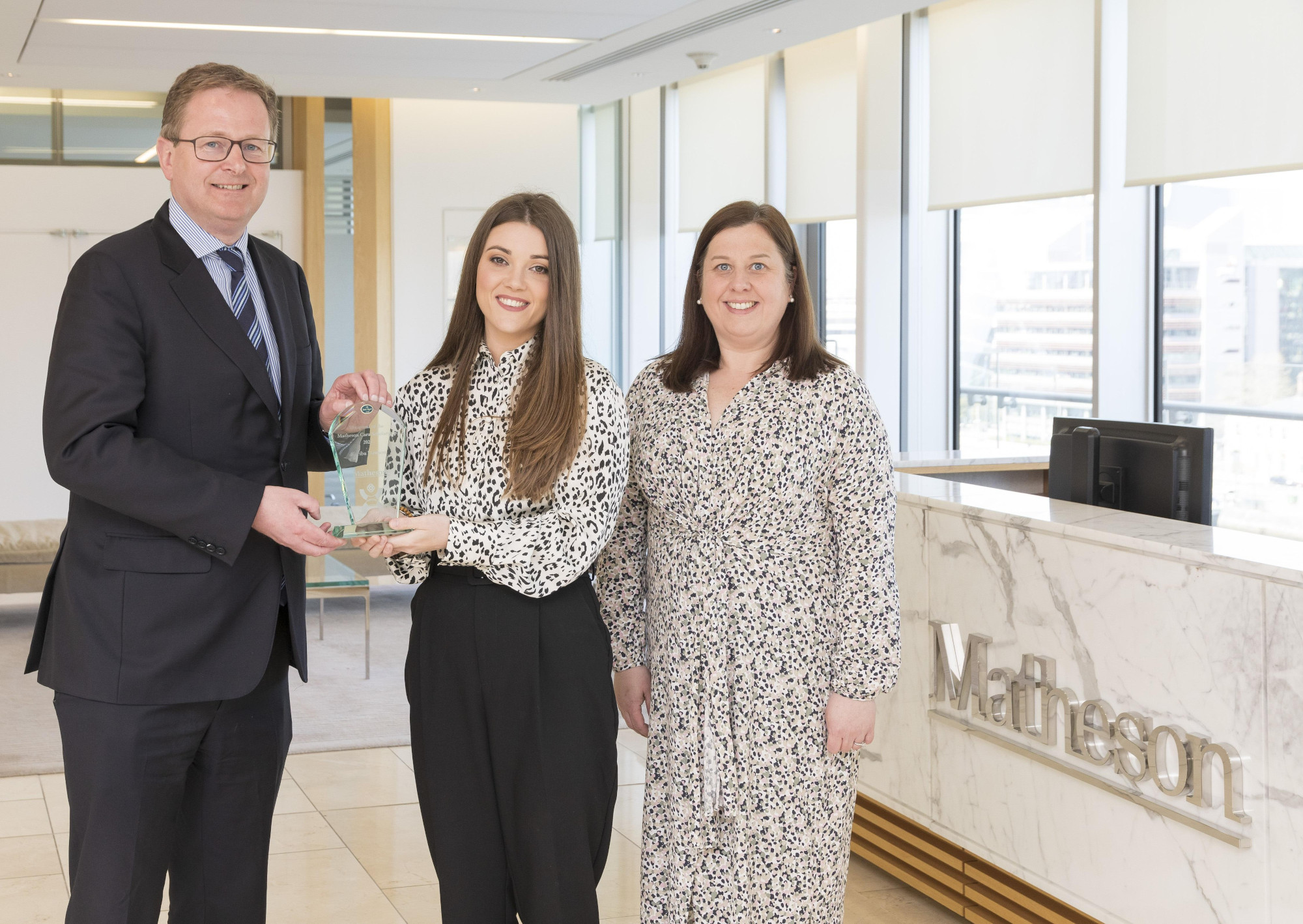 Matheson has announced the 2022 launch of its Cara Scholarship, the firm's diversity and inclusion scholarship delivered in partnership with Trinity College Dublin (TCD).
Named in honour of late Matheson partner Cara O'Hagan and delivered as part of Matheson's impactful business programme, the scholarship is open to second-year undergraduate students in TCD, including students on the higher education access route or the disability access route to education schemes, mature students and students who face barriers in third-level education.
The recipient of the Matheson Cara Scholarship will receive:
a place on Matheson's Summer Internship Programme in June 2023;
a bursary of €5,000 for each academic year; and
an assigned mentor from Matheson to support them during their university journey.
The 2021 scholarship was awarded to Kariba Dawson, a mature student and parent.
Michael Jackson, Matheson's managing partner, said: "The Matheson Cara Scholarship honours the memory of our late colleague and friend, Cara O'Hagan, who was at the forefront of many of our D&I initiatives.
"We are proud to continue the legacy of Cara's work through our impactful business programme – a strategic initiative which brings together our diversity and inclusion, corporate social responsibility, environmental sustainability and arts activities into one dedicated programme with a single vision to deliver and support meaningful, sustainable and measurable change.
"Across our international network – with offices in Ireland, the UK and the US - we have a range of committees supporting our IBP and promoting diversity to reflect the people who make up our firm.
"We are committed to delivering an equality of opportunity and experience to everyone who works at Matheson and, through this scholarship, we are delighted to extend this commitment to improving inclusivity within the legal sector in general."
Nicola White, director of learning and development at Matheson, said: "We are pleased to announce the 2022 launch of the Matheson Cara Scholarship. We hope that with this scholarship we can promote greater opportunities for students as part of the early development of their academic careers and help them to achieve their professional goals.
"At Matheson, we understand that our true asset is our people and that diversity and inclusion is good for our team, our firm, our clients and society. By developing and empowering diverse talent, we build diverse and inclusive teams that deliver innovative solutions to our clients and for our business.
"Through this scholarship, we are proud to support and nurture the development of the next generation of legal professionals."
To apply for the scholarship, students should email a copy of their CV and a short summary (maximum 1,000 words) as to why they believe you should be the recipient of the scholarship. Entries should be sent to tcd.scholarship@matheson.com by Monday 21 November 2022. A small number of applicants will be shortlisted and invited to interview.