Matheson presses on with appointments in spite of pandemic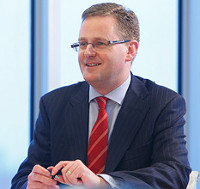 Matheson will welcome dozens of newly-qualified solicitors and student interns this summer in spite of the COVID-19 pandemic, managing partner Michael Jackson has said.
The firm has over 700 employees working from home and has been working hard to translate its in-person training and development programme resources into a virtual context.
This "has allowed us to be able to continue with plans such as welcoming 46 student interns virtually to the firm in June, and the appointment of 23 newly qualified solicitors to the firm", Mr Jackson said yesterday.
He made the remarks as Matheson announced it had signed up to the Mindful Business Charter, a set of best-practice principles to support mental health and wellbeing in the workplace.
The law firm is one of 54 businesses who have signed up and committed to the principles of the Charter, including Barclays, Lloyds, RBS, Goldman Sachs and a number of UK and international law firms.
Mr Jackson said: "We commenced working on becoming a signatory to the Charter prior to the onset of the COVID pandemic, but we believe that the mindful business practices which the Charter articulates could not be more relevant than they are now.
"As businesses adjust to the challenges of maintaining business continuity, changed employment practices and navigating the current market environment, the Mindful Business Charter is an important framework that helps develop and maintain a supportive culture throughout the organisation."
Matheson's third annual health and wellbeing week is taking place virtually next week, he added.