NI: Man refused bereavement payments after death of disabled wife to appeal decision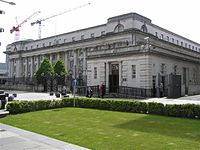 The Court of Appeal in Belfast will tomorrow consider whether the Department for Communities breached human rights law by refusing bereavement payments to a man after his severely disabled wife died in July 2017.
Michael O'Donnell, who is being represented by Law Centre NI, was refused the benefit on the basis that his late wife Pauline had not paid necessary contributions.
Mrs O'Donnell was diagnosed with Friedreich's Ataxia, a progressive degenerative disorder, at the age of 12 and was unable to work due to her severe disability, his lawyers have said.
The decision not to award payments is being appealed at a tribunal on the grounds that it discriminates against Mrs O'Donnell's disability.
The tribunal referred the case to the Court of Appeal for a hearing tomorrow morning to consider:
Are the provisions of sections 29 and 30(1)-(3) of the Pensions Act (NI) 2015 compatible with Art.14 in conjunction with Art.8 and/or Art.1 Protocol 1 of the European convention on human rights (given effect by the Human Rights Act 1998) on grounds of disability discrimination?
Was the department's refusal of the appellant's application for bereavement support payment in breach of Art.14 in conjunction with Art.8 and/or Art.1 Protocol 1 ECHR on grounds of disability discrimination?
The case is the third recent challenge to government bereavement payments, following the challenge to widowed parents' allowance (WPA) in Re McLaughlin's Application [2018] UKSC 48 and the challenge to bereavement support payment in Jackson & Others v SSWP CO/975/2019.