Man jailed for ten-and-a-half years in first coercive control case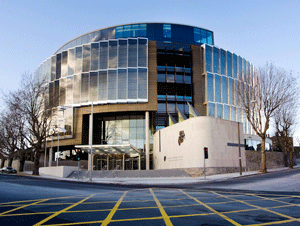 A man convicted of coercive control and other offences following the first trial for offences under the Domestic Violence Act 2018 has been jailed for ten-and-a-half years.
During a 20-month relationship, Daniel Kane, 52, repeatedly attacked his partner, including burning her foot, cutting her with a pizza slicer, headbutting her in the face while she was recovering from nasal surgery and stamping on her arm causing her multiple fractures.
On another occasion he stamped on her head and strangled her, leaving finger marks along her throat. After being charged with these attacks, Mr Kane threatened to send explicit images of the victim to her family if she did not withdraw the charges.
A jury last year convicted Mr Kane of coercive control, intimidation, assault and 12 counts of assault causing harm.
The offences occurred at various locations, including the couple's Dublin home, on dates between May 2018 and January 2020.
The jury at Dublin Circuit Criminal Court acquitted Mr Kane of one charge of assault causing harm and one charge of endangerment, both alleged to have occurred in the same time period. He had pleaded not guilty to all the offences.
Following the convictions, Mr Kane pleaded guilty to a separate charge of intending to pervert the course of justice in the period between March and July 2020. This related to several attempts by the man to get the woman to withdraw her statements to gardaí.
Mr Kane has two previous convictions for drunk driving and intoxication in a public place.
Speaking outside the Courts of Criminal Justice building following the sentencing, Chief Superintendent Finbarr Murphy commended the victim in the case for her bravery and said she has been "an inspiration to a number of women not only in Ireland but beyond Ireland as well".
"They have found inspiration by your actions to come forward and a lot of them in the last couple of days have come forward and told their stories," he said.
The case was reported on last week after a hearing in which the victim encouraged victims of domestic violence to seek help from services such as Women's Aid and said they would be heard.
In her victim impact statement, she told the court she "might be dead or in a vegetative state" if doctors and gardaí had not intervened to get her away from Kane.
Prior to sentencing yesterday, Kerida Naidoo SC, prosecuting, said that prior to the trial an order was made that neither the accused or the victim could be named. He said this order was made where there was accepted evidence of the vulnerability of the victim.
Mr Naidoo said that subsequent to the trial, the view of the Director of Public Prosecutions (DPP) is that the anonymity provision contained in section 36 of the Domestic Violence Act 2018 does not appear to cover the offence of coercive control.
This new assessment followed inquiries raised by the media regarding the legal justification for the restrictions.
Superintendent Murphy said the victim had been informed of the sentence and while he would not speak for her, he said his understanding is that "she is pleased with the outcome".