Man held up judge and lawyer in terrifiying siege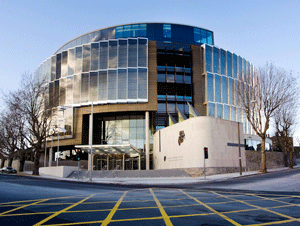 A man held up a judge, a barrister and his estranged wife with a fake pistol and a hoax pipe bomb during a "terrifying" siege in a Dublin court, his sentence hearing has been told.
During a hearing in December 2018, Edmund Dunican, 47, told the court he had a "problem" with an opposing barrister, Lisa Daly, before he drew a "realistic" firearm from his briefcase and threatened her with it, Dublin Circuit Criminal Court heard on Friday.
At the time, Dunican was wearing an elaborate device around his neck that resembled a pipe bomb. The court heard Dunican, a fitter by trade, made the fake bomb at home.
The judge in the courtroom refused to leave when Dunican told her she could go. Instead, she repeatedly appealed to him to drop the gun and helped the other two women, at one point ensuring they both had a glass of water.
The 17-minute siege ended after an armed garda negotiator persuaded Dunican to surrender the gun and let the women go. The court building was evacuated and surrounded by armed garda units during the incident, while an army unit was called in to assess the device.
Dunican, with an address in Stadium Business Park, Ballycoolin, Dublin, pleaded guilty to one count of carrying an imitation firearm with criminal intent at Smithfield on 20 December 2018.
It is an offence that carries a maximum penalty of 14 years' imprisonment and a mandatory minimum sentence of five years. Dunican has no previous convictions.
Judge Patricia Ryan adjourned the matter to Tuesday 26 January 2021 for sentencing.