UK: Lord Reed identifies constitutional principles produced by devolution case law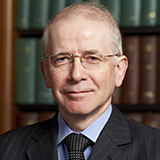 Lord Reed has described some constitutional principles that have emerged from the case law on devolution.
In a speech on devolution and the role of the courts delivered at Dover House in London, the Deputy President of the UK Supreme Court looked at the cases of Robinson v Secretary of State for Northern Ireland, which resulted in the power-sharing agreement, and AXA General Insurance v Lord Advocate.
On Robinson he said: "Unfortunately, the elections had not been carried out in accordance with the procedure laid down in the Northern Ireland Act 1998, and so the question was raised whether the result was valid or whether there would have to be fresh elections, which might not produce the conditions for power-sharing. By the narrowest of majorities, the House of Lords held that the election result was valid.
"Lord Bingham and Lord Hoffmann, who were in the majority, justified their decision on the basis that the Northern Ireland Act was "in effect a constitution" rather than an ordinary statute, which should therefore be interpreted "generously and purposively" rather than in accordance with ordinary principles of statutory interpretation."
He added: "In later cases, it was understandably argued on behalf of the Scottish ministers that the Scotland Act was likewise a constitution which should be interpreted generously in favour of the Scottish Parliament and government. Both the Court of Session and the Supreme Court rejected that approach. Robinson is perhaps best understood as a decision concerned with its own specific circumstances."
Of AXA, he said that it "raised a fundamental question as to the status of the Scottish Parliament and, by implication, of the other devolved legislatures".
"[T]he case raised the question whether the Scottish Parliament was subject to judicial review on the same basis as any other statutory body, as dicta in an earlier decision of the Court of Session, in Whaley v Watson, had been thought to suggest. The Supreme Court decided that an ASP could not be challenged as if it were a decision of an ordinary public body. The ordinary grounds of judicial review did not apply, although a common law challenge could be brought if an ASP violated fundamental principles of the rule of law."
He also summarised some constitutional principles generated by the case law, among them that devolution is a "crucial aspect of the governance arrangements of the UK as a whole. It is intended to sustain the integrity of the UK as well as to meet the desire for self-government in three of its constituent nations".
He added: "The Scotland Act must be interpreted in the same way as any other statute. The courts have regard to its aim to achieve a constitutional settlement and therefore recognise the importance of giving it a consistent and predictable interpretation, so that the Scottish Parliament has a coherent, stable and workable system within which to exercise its legislative power. This is achieved by interpreting the rules as to competence in the Scotland Act according to the ordinary meaning of the words used."