London barrister from Northern Ireland shortlisted as young pro bono barrister of the year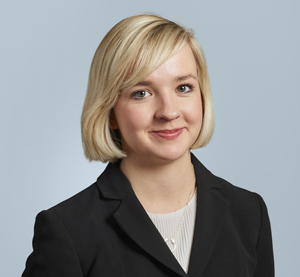 A barrister from Northern Ireland who practises in London has been shortlisted for an award recognising young barristers in England and Wales for their pro bono work.
The Young Pro Bono Barrister of the Year award, facilitated by Advocate, the pro bono charity of The Bar of England and Wales, celebrates "a barrister at the beginning of their career showing exceptional dedication to increasing opportunities for access to justice".
Mary-Rachel McCabe of Doughty Street Chambers, who grew up in Omagh, has dedicated a significant period of time to pro bono work over the last year, including by acting as junior counsel in a high-profile case concerning an Irish language epitaph on a Coventry gravestone.
The case, where Caoilfhionn Gallagher QC acted as lead counsel, saw the family of an Irish woman who emigrated to England in the 1950s successfully appeal against a ruling of the Consistory Court of the Diocese of Coventry which had denied them the right to include an Irish language epitaph without an English translation on her gravestone.
Ms McCabe also acted as junior counsel, led by Aswini Weereratne QC, for RESPOND in a landmark case heard by the UK Supreme Court in July 2021, A Local Authority v JB (by his litigation friend, the Official Solicitor), which is considering the test for capacity to engage in sexual relations under the Mental Capacity Act 2005. Judgment is awaited.
In addition to her litigation work, Ms McCabe sits on the board of the charity KIDS, where her pro bono work over the past 18 months – a time of particular challenges for disabled children given Covid-19 and lockdowns – has been of vital importance.