Legislation on bogus self-employment 'could create more problems than it solves'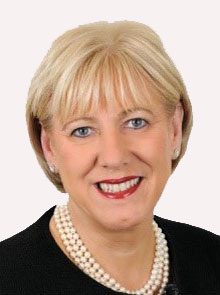 New legislation to clamp down on bogus self-employment "could actually create more problems than it solves", Social Protection Minister Heather Humphreys has claimed.
The minister was pressed in the Dáil yesterday on whether she would commit to new legislation in the next six months, as recommended by an Oireachtas committee.
The joint committee on social protection, community and rural development and the islands published a 72-page report last month which called for anti-victimisation and blacklisting legislation to be published within six months.
The report noted that the number of applications for a determination of employment status "remains low, particularly when compared to the estimates of how many workers misclassification potentially effects".
The committee heard evidence from various employee representatives and groups that many workers do not seek determinations "for fear that they will be 'blacklisted' and denied work in their respective industries in the future".
The Department of Social Protection told the committee in April that it was consulting with the Department of Enterprise, Trade and Employment on the development of anti-victimisation provisions for workers who wish to query their employment status.
The report said: "However, as this legislation was being explored as early as 2019, the committee is of the opinion that it must remain a priority."
Pressed on the matter by Right to Change TD Joan Collins in the Dáil, Mrs Humphreys said the committee's recommendations "require detailed and careful analysis and, as they issued just two weeks ago, it will take some time to form a view, to receive legal advice on their implications and, in addition, to consult affected stakeholders".
She added: "I note the specific recommendation referred to by the deputy crosses my Department and the Department of Enterprise, Trade and Employment. Any legislation arising will then need to be drafted and accommodated within what is already a busy legislative agenda."
Mrs Humphreys said that she intends to shortly publish a new code of practice on employment status, as the original 2001 code of practice had not been updated since 2007.
"With regard to legislation or the suggestions that came from the committee, we will certainly look at those," she added. "However, bringing legislation into this space could actually create more problems than it solves. I am treading cautiously, to be honest with the deputy."