NI: Legacy judicial reviews held up by 'recruitment difficulties' on the bench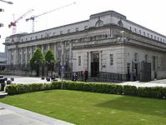 A shortage of "judicial manpower" has led to a backlog of 30 legacy judicial review cases pending in the High Court, a judge has said.
Lord Justice McCloskey, speaking in the court yesterday, said legacy cases awaiting determination currently make up a fifth of all pending judicial reviews in Northern Ireland, the Belfast Telegraph reports.
Although sympathetic to bereaved or injured people and families, he highlighted the "heavy volume of other business in the Judicial Review Court and the serious limitations on judicial manpower arising out of ongoing recruitment difficulties".
The judge made the remarks as he continued the stay on determination in a case concerning a 1992 UVF gun attack.
The proceedings, brought by John McEvoy over the PSNI's alleged failure to ensure an independent investigation into his attempted murder in Kilco in November 1992, are on hold until a UK Supreme Court ruling addressing similar points of law.