Lawyer of the Month: Kevin Winters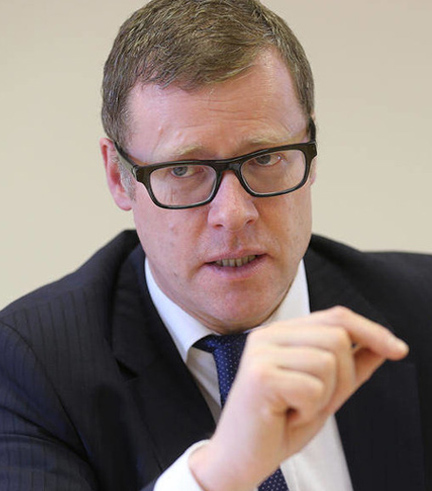 Not all that's useful in a legal career is learned at university. In Kevin Winters' case, his concern about injustice began as a 10-year-old boy working during school holidays on building sites in areas such as Twinbrook in republican west Belfast and Dee Street in loyalist Ballymacarrett.
"Leaving home at 5.30am with my lunch box packed I learned a lot about Belfast during the mid 1970s and 1980s in the canteens of these places: there was intimidation, jobs for the boys and the extraction of money and I'm still involved in cases representing the families of men on both sides of the community who were shot dead on building sites during the Troubles," he says.
Most recently, the founding partner of KRW LAW has been prominent in his outspoken criticism of the Northern Ireland Troubles (Legacy and Reconciliation Act) 2023 which has received royal assent and entered law on 19 September 2023.
This establishes a new "Independent Commission for Reconciliation and Information Recovery (ICRIR) limiting criminal investigations, legal proceedings, inquests and police complaints" but has uniquely united all Northern Ireland's political parties in their opposition (though for varying reasons) and quickly sparked 16 legal challenges.
Mr Winters has said the commission will be neither independent nor will nor will it lead to reconciliation. Instead, he believes the Act will "set justice back into the dark ages".
He had, with Phil Scraton, professor emeritus at the School of Law at Queen's University, been due to address the Law Society of Northern Ireland's annual conference today focusing on the Act but they have withdrawn. The conference has been postponed after requests by some victims' representative groups and a protest was announced.
Mr Winters said that since passing into law, the bill would have eroded much of the relevancy of their contributions at today's conference: "This included a critique derived in the fallacy that current legal mechanisms are failing families, alongside pragmatic measures on how the Act could be made fit-for-purpose … for us the pivotal issue is timing … unfortunately [the proposals] have now passed into legislation."
His commitment to human rights law most conspicuously dates back to when, after studying at QUB, he was apprenticed to human rights lawyer Patrick Finucane at the time of his boss's murder in Belfast in 1989 and then worked on prominent cases such as the McCann and Others v UK 'Death on the Rock' inquests and the case on the right to silence of Murray v UK which was heard by the European Court of Human Rights in 1994.
Another instructive arena was the Gaelic football field. He played for QUB and he quotes from an old Sigerson Cup programme: "Winters is built like a bullock and plays like one. He is totally devoid of skill but makes up for it with his entertaining runs."
He rather self-deprecatingly draws an analogy with his legal career. "I may not have been the greatest footballer in the world — but I always had my name on the team sheet and the manager said you'd notice if I wasn't there," he says.
"And while I'm not necessarily the most eloquent advocate in the world, I more than make up for than in effort. Like my early days on the building site, I still get up at 5.30 in the morning, turn up early and put in a long shift."
He has described Patrick Finucane's murder as the turning point of his career, the one at which law stopped being a job and became a vocation. "I was catapulted into the frontline of criminal law practice, and I did that on a daily basis as Castlereagh holding centre, Long Kesh and Crumlin Road prison were my world for 15 years after Pat was killed."
This has evolved since Mr Winters went into partnership with Peter Madden and the late Eamann McMenamin, going on to co-found Kevin R Winters and Co in 2001 which changed its name to KRW LAW LLP in 2012 and has been listed in Band One by Chambers in its Administrative and Public Law category. Cases now include prisoner rights; the right to march; political and sex discrimination and other equality issues.
"At that [early] stage some 70 per cent of our income came from criminal work but we have evolved considerably into becoming a multi-faceted and multi-jurisdictional practice involving cutting-edge public law and administrative law challenges," he says.
"Lawyers can be a conservative bunch and to change from a traditional base in which we were comfortable and knew about to litigate in cases in the Republic of Ireland and in England was initially a challenge."
However, KRW LAW is now, inter alia, suing the Irish DPP over a sex-related offence, litigating over VAT price-fixing in the poultry industry and taking a multi-million-euro action on behalf of a client who is alleging a price-fixing cartel in the cement industry. "Because of developing our specialism especially in the north of Ireland we have now represented people such as George Galloway and Dana [Rosemary Scallon] and for me that has represented a sense of achievement," he says.
"The logistics of re-pivoting a practice doesn't happen overnight but I've learned a tremendous amount from working with Pat Finucane, Peter Madden and Eamann McMenamin who was a specialist in tort actions."
Mr Winters — who admits he was no early expert in tort law — has successfully adopted that process in the litigation of Troubles-related cases, "to the point today where we have 400 High Court actions pending in relation to incidents involving the Troubles".
It's a job that clearly weighs heavily — but his expertise has been channelled into other, impressively creative areas. "I'm interested in screenplay and found myself in the writing room of BBC2's The Fall starring Gillian Anderson and Jamie Dornan and have been behind the scenes in Blue Lights.
"I'm interested in the arts and theatre-going, while sports and rugby feature heavily when at home with the kids." Though, as a long-standing Gaelic player, he resignedly admits he "hasn't been invited to be in a team" for a while now.
Mr Winters believes that serious and immediate issues must addressed and the consequences are wide-ranging. Traditionally, republican and nationalist families were involved in the main bulk of litigation regarding Article 2 of the Human Rights Act 1998.
"But that has been changing to the extent that we now have some 70 to 80 cases in the High Court alleging Republican/state collusion, including one regarding a soldier who survived an IRA attack when three of his colleagues were murdered.
"And when you have former military and security personnel taking cases against the state, that demonstrates that it's a bridge too far for the government and in my view that's why there is a legacy shutdown."