Lawyer of the Month: Keith Walsh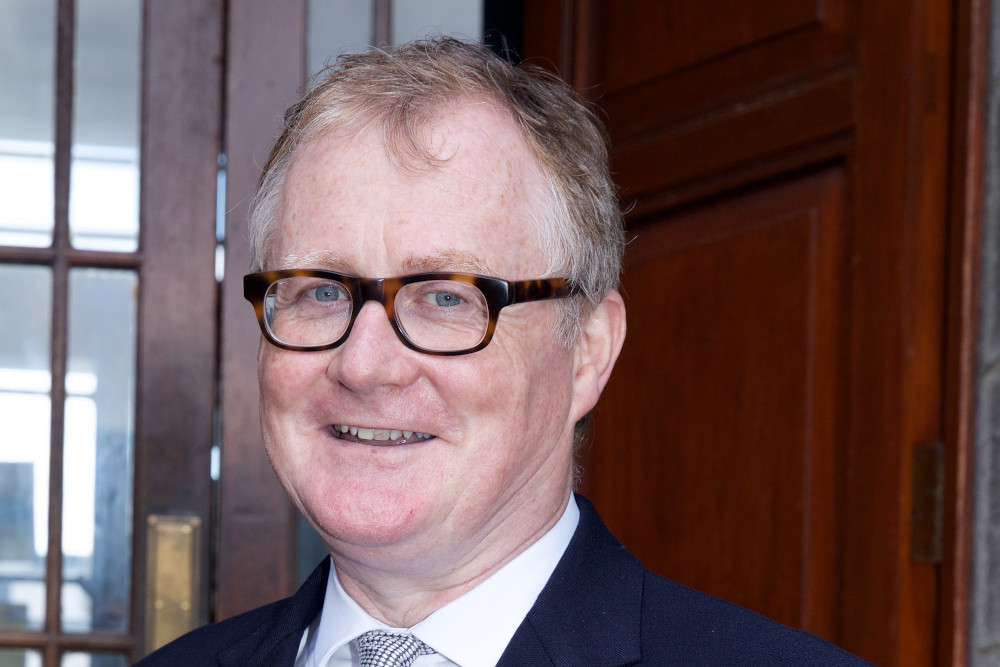 During the decades that Keith Walsh has been practising family law, the world in which he operates has undergone a period of seismic change. When he joined the Legal Aid Board in Dublin as a clerk in 1998, divorce was virtually unheard of in the country – and it tended to come with a sense of shame. The Divorce Bill had only been signed into law at the end of 1996, meaning legal separation was still a relatively new phenomenon.
Fast forward to the present day and Mr Walsh speaks of a very different picture, particularly in the aftermath of the 2019 divorce referendum. He explains: "Back in 1998, there was still quite a bit of stigma attached to marital breakdown, separation and divorce. That has almost completely disappeared. The biggest change is that people aren't ashamed any more about getting separated and divorced. It's just a normal thing that can happen. That normalisation has really only happened in the last 10 or 15 years."
And Mr Walsh has been a driving force behind that "normalisation". He was part of the Lawyers for Yes referendum campaign that helped lead to a result that eased some of the restrictions on divorce. But he says his group wasn't faced with much opposition, a situation that was "indicative of a sea change in the Irish population when it comes to separation and divorce".
He is clearly passionate about all aspects of family law and realised this was the area for him after starting out in the profession as more of a generalist. After leaving school in his small home town of Ballinrobe in County Mayo, he went to college in nearby Galway to study commerce and law. "I got very involved with the Law Society when I was at college, in debates and organising events and things like that. I was always interested in law," says Mr Walsh.
But it was only after taking a couple of years out to work as a teacher in London that Mr Walsh decided to return to Ireland and really give law a chance. "I'm delighted I did that," he says. He loved his time at the Legal Aid Board in the late 1990s, just as the Celtic Tiger was starting to roar. From there he started his traineeship with a firm in Dublin, gaining wide experience, ranging from employment law to litigation, before deciding after about 10 years that family law was the area for him. "My background is a very general one and I got more specialised the longer I practised. That has been key to my development," he explains.
His focus is now almost exclusively on family law, alongside a small amount of mental health work, and his expertise is widely recognised. He has picked up a number of accolades, including Family Lawyer of the Year and Family Law Firm of the Year at the 2021 Irish Law Awards. He says such recognition helps to further build profile and reputation in the profession and among clients, which can lead to winning more business. And he adds that being known for specialising in one area of the law can help with practice and professional development.
It's the variety offered by family law and the human element involved that attracted Mr Walsh to this area and has kept him stimulated over the years. "Even though all cases are similar, no two cases are the same, no two people are the same and no two couples are the same. You have the law, but quite a lot of it turns on the personality of the people involved," he says.
And although he says it can be challenging to work with people going through a separation or divorce, which is often the worst time of their lives, there is a resolution at the end. "It's really about resolving the blockages they have in their lives to do with the separation or divorce. There's a problem-solving element and sometimes there are no ideal solutions, so there has to be compromise," he adds. "I like working with people, and family law is definitely about people. All human life is there – everybody and anybody could come in your door. It also gives you insights into other people's lives. It's endlessly fascinating."
Looking in more detail at the 2019 divorce referendum – which was, of course, passed with an overwhelming 82 per cent voting yes – Mr Walsh believes the liberalisation of laws had an impact for a number of reasons. As well as making people more aware of divorce, its most immediate and biggest effect was to cut the waiting time from four years to two years, and make the whole process more accessible. Mr Walsh's view is that more changes would be welcome.
He says: "One of things I've been involved in since I started doing family law is its reform to make things easier and more practical. We're now at two years and my personal view is that we could reduce the waiting time [for divorce] to one year. That would be very practical. If you've been living apart for a year you're, realistically, not going to get back together. This change will take a few more years, but I think ultimately it should and will happen."
Turning to career highlights, he refers to a case he handled just before lockdown involving a woman from overseas, who was married to an Irish man, and who wanted to relocate back to her home country with her young child. The case on behalf of the woman had initially been fought and lost in the Circuit Court. It was appealed to the High Court and the judge found in her favour. Mr Walsh says: "This involved a huge amount of work from the legal team to convince the judge that the lady should be allowed to return to her country, and that it wouldn't harm the child's relationship with the father. It was a difficult case that we had already lost, and were in danger of losing again." He describes the final outcome as "very fulfilling".
Covid-19 and lockdowns also had consequences for family law, including an unfortunate and well-documented increase in domestic violence. In Ireland, the Domestic Violence Act 2018 made significant changes to the law and awareness of the legislation grew during the pandemic. "During lockdown you had people in the same house together and there was nowhere to escape to, so the level of domestic violence seems to have increased, along with coverage of it in the newspapers," explains Mr Walsh.
While courts closed for many things at the beginning of the pandemic, they remained open to hear domestic violence cases. According to Mr Walsh, one of the concerns was that people would find it difficult to travel to the courts in the centre of Dublin from outlying areas. "This reinforced the importance of local courts that people could access during Covid and more generally," he says.
"We realised the importance of the courts continuing to work, and dispense justice and progress cases during the pandemic," adds Mr Walsh. "We can't just leave cases, particularly if you want to get divorced or separated. A case may not involve a huge amount of money, but it's a tragedy if people are stuck in the house together for another year. What we've learned from Covid is that it's really important to keep all these cases moving."
Family law has got even busier with the pandemic leading to more separations and divorces, and there is unlikely to be any respite with the profession gearing up for major structural changes thanks to the Family Courts Bill 2020. It aims to reform the family justice system and Mr Walsh has mixed views about what it will achieve.
On the one hand, he thinks the abolition of the High Court for judicial separation and divorce, that is under discussion, would be a "terrible mistake". That court deals with the "big money" separation and divorce cases and he says getting rid of it would push these, usually complex, cases to the already busy Circuit Court. On the other hand, he would welcome the establishment of a specialist division of family law judges and rules. "Apart from the High Court, I think a lot of the proposals are positive," he concludes.