Lawyer of the Month: Diego Gallagher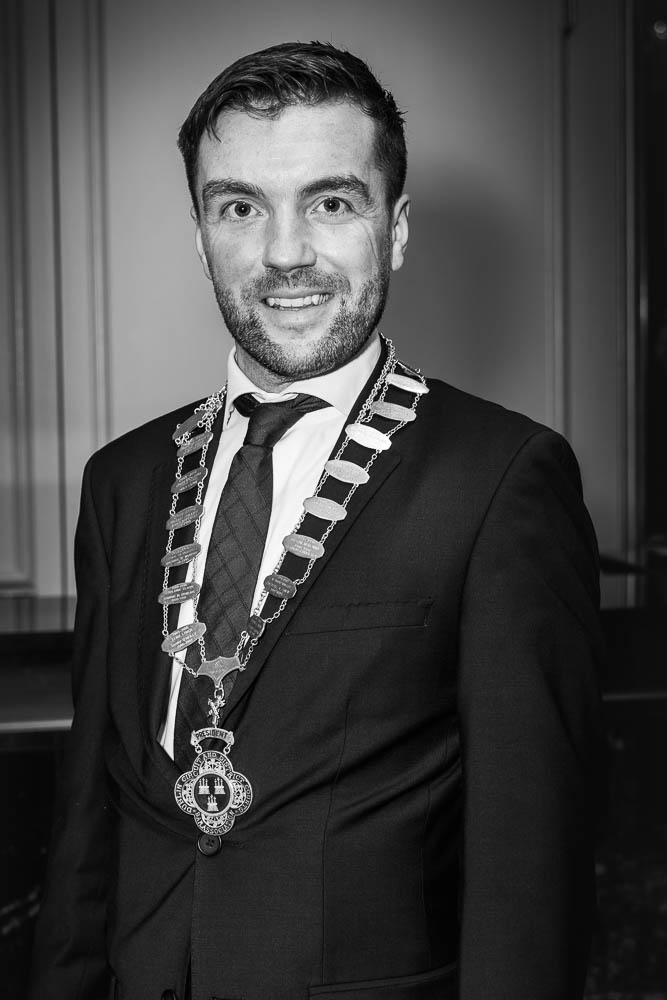 In pursuing a career as a lawyer, Diego Gallagher, now senior solicitor at the Child and Family Agency (Tusla) in Dublin, was following in his father's footsteps. His dad Brian Gallagher had his own law firm, Gallagher Shatter, with Alan Shatter – a former minister for justice – and clearly passed on his passion for the legal profession. Diego Gallagher explains: "As a young teenager things like ongoing current legal developments were discussed at the dinner table and always interested me."
Mr Gallagher – who was elected as president of the influential Dublin Solicitors Bar Association (DSBA) in October last year – acted on that early interest and studied law at Trinity College. He then decided not to take what might have been seen as the easy option of joining his father's firm. Instead, he trained with BCM Hanby Wallace – now ByrneWallace – in Dublin. "I didn't train with my dad's firm. I think it's a good thing that we branch out as adults and work in other people's firms. That was good training for me," says Mr Gallagher.
When he first went into law, he thought his work would revolve around such things as conveyancing and probate, and he was largely unaware of child law. That changed when ByrneWallace set up a health and social care department while he was still a trainee. That development took Mr Gallagher in a direction he hadn't expected. His advice to young solicitors is to be open to new opportunities and areas of law they might not have even considered.
He says: "By way of example, in Ireland we train as solicitors or barristers. Barristers do most of the advocacy. I had never dreamt I would be doing any advocacy; I wasn't even a member of the debating society at college or school."
But he grasped the chance to work in human rights in the area of child law, describing the move as a 'no brainer'. "ByrneWallace were absolutely wonderful and gave me great training. The head of its health services department Sinéad Kearney is a mentor and friend and one of the top lawyers in the country," he says.
Mr Gallagher is dedicated to child law in his role at Tusla which he took up in July 2020 when he left ByrneWallace. "The work I do is hugely broad. It's an agency with about 5,000 employees. We get a referral with respect to a child every seven-and-a-half minutes."
He explains that Tusla – established in 2014 – covers a wide variety of areas and issues. As the dedicated state agency responsible for improving the well-being and outcomes for children its remit includes child protection; adoption; domestic violence; gender-based support; monitoring of early years services and school attendance.
Mr Gallagher says his starting point is that the Child and Family Agency has a duty under section 42 of the Irish Human Rights and Equality Commission Act as a public body to protect the human rights of its members, staff and the people to whom it delivers services.
"I'm privileged and lucky and it's a huge responsibility to work in an area where we must uphold not only the human rights of children who may be at risk, but all service users – and that includes parents. Parents have the right to be supported, to get legal advice and be represented," says Mr Gallagher.
Tusla has not been without its challenges in the time Mr Gallagher has been there. He joined the agency near the start of the Covid-19 pandemic when schools were closed and some children suffered from not having a safe place to go where they were looked after by responsible adults.
Another major incident was the high-profile cyber hack on the agency last year. The hack by a criminal gang brought down Tusla's online referral system which lets people report concerns about children who are potentially at risk. According to Mr Gallagher, the attack "literally threw us back to the stone age of paper and pen". He adds: "We were suddenly in a situation where it was very challenging to advise clients in a vacuum like that."
Talking about the pandemic, Mr Gallagher says it highlighted and focused attention on challenges that already existed in the law in Ireland when it comes to child protection. To illustrate this point he refers to the fact that there has been a proposal to create a purpose-built court in Hammond Lane in Dublin for several years. This hasn't happened yet and child protection cases are still being heard in Chancery Court.
He says: "The Dublin Solicitors Bar Association did submissions back in 2016 for a purpose-built court. While we've seen the plans, it hasn't hit the light of day yet. One priority is to achieve a legal system that's fit-for-purpose for the service users. That would be where people would go into a court room and there would be access to Legal Aid, mediation, family support services and even basics such as a crèche. And if children are giving their views to a judge in person, there would be appropriate child-oriented rooms for them."
As Ireland's Child Care Act dates back to 1991 he sees the family law strategy review as timely and a priority. He also places importance on the full implementation of the Capacity Act that was signed into law back in 2015 to finally replace lunacy legislation from the 19th century.
As well as a clearly busy day job with Tusla, Mr Gallagher has a lot to keep him occupied in his role as DSBA president. With more than 2,500 members, the representative organisation is designed to support solicitors in a variety of ways. For example, it has a counselling phone line and runs seminars where young solicitors or people from minority groups can meet their peers. And Mr Gallagher is pleased to see the return of in-person seminars now that pandemic restrictions are easing.
On the role of DBSA, Mr Gallagher says: "Part of it is to highlight was solicitors do. We are essential to society and champions of the rules of law on which our democracy is founded. We have a pride in our past and faith in our future. By way of pride, solicitors supported the work of the Pringle Committee in 1977 which prepared a model for legal aid. That action by volunteer lawyers has led to hundreds of thousands, if not millions, of people getting effective remedies and access to justice. We should be very proud of the contribution that lawyers have made to society and the help we give day-to-day to people.
"Looking ahead, there are challenges for solicitors. It can be hard for sole practitioners and those in smaller firms to get economical professional indemnity (PI) insurance. The reality is that Ireland needs a wide suite of different legal services. The law did not stop because of Covid and the law touches every aspect of life. People still needed to buy houses, to make wills and defend fundamental rights in areas like mental health law. We guide and influence policy, and also give free legal advice in the community. We want to be a voice to recognise the contribution solicitors make in society. We also want to be a voice for better."
An area that he says must be addressed is around bullying and sexual harassment in the legal profession. When Mr Gallagher was elected as DBSA president he told the AGM that this issue, highlighted in a survey by the Law Society of Ireland, had to be tackled. He also said the DBSA should prioritise the well-being of solicitors and maintain collegiality.
"Bullying, harassment and sexual harassment are utterly at odds with the concept of collegiality in the profession," says Mr Gallagher.
He refers to the report from the Law Society that identified such worrying statistics as: one in every 2.9 women and one in every 2.3 men who responded to the survey experienced bullying; one in every 2.3 women and every 8.6 men said they experienced harassment; and one in every two women and one in every 8.3 men said they had experienced sexual harassment.
"There are no words to describe the pain that colleagues must have felt in experiencing this," says Mr Gallagher. "The hope is that we move from an endemic acceptance of this culture of behaviours to one which promotes, safeguards and ensures dignity at work for all members of the profession at all stages in their career. We need to raise awareness and normalise the conversation and we need to do it amongst colleagues at Law Society and Bar Association level."
According to Mr Gallagher, part of the solution would be a mandatory dignity-related CPD that would be part of every solicitor's practising certificate. He also advocates flexible reporting pathways to allow people to voice their concerns in their own way and in their own time.
He pinpoints stress in the profession as another problem to be dealt with. "Without solicitors being well we cannot deliver the services that a community needs. We've seen the growth of remote working in the last few years and I support blended working. But now every junior solicitor has a laptop and they bring it home. What well-being time bomb are we stocking up for our colleagues if they can never switch off?"
Mr Gallagher urges young solicitors to follow in his footsteps and get involved in such things at the DBSA and voluntary initiatives outside work. Through the DBSA he said he benefited from great mentoring from the likes of Josepha Madigan, now a government minister, through involvement with the family law committee.
He also derived satisfaction from delivering free legal advice in Dublin to support people who could not afford to pay for solicitors. "You could sometimes see the weight being lifted off their shoulders," he says.
And he is now part of an ad-hoc group called Lawyers for Ukraine, convened by Eamonn Conlon, to address the impact of the Russian invasion. Its actions include supporting Ukrainian colleagues and giving basic legal advice to Ukrainians who arrive in Ireland. It has a fundraising event planned in Dublin on 31 March.
Looking ahead, Mr Gallagher says he would love to see the family justice strategy progressed and the Hammond Lane court becoming a reality.
He concludes: "I believe there has never been more need for the voice of solicitors in society than there is today. We are champions of democracy and human rights, not just for vulnerable people but for everyone in society."