Lawyer of the Month: Aonghus Kelly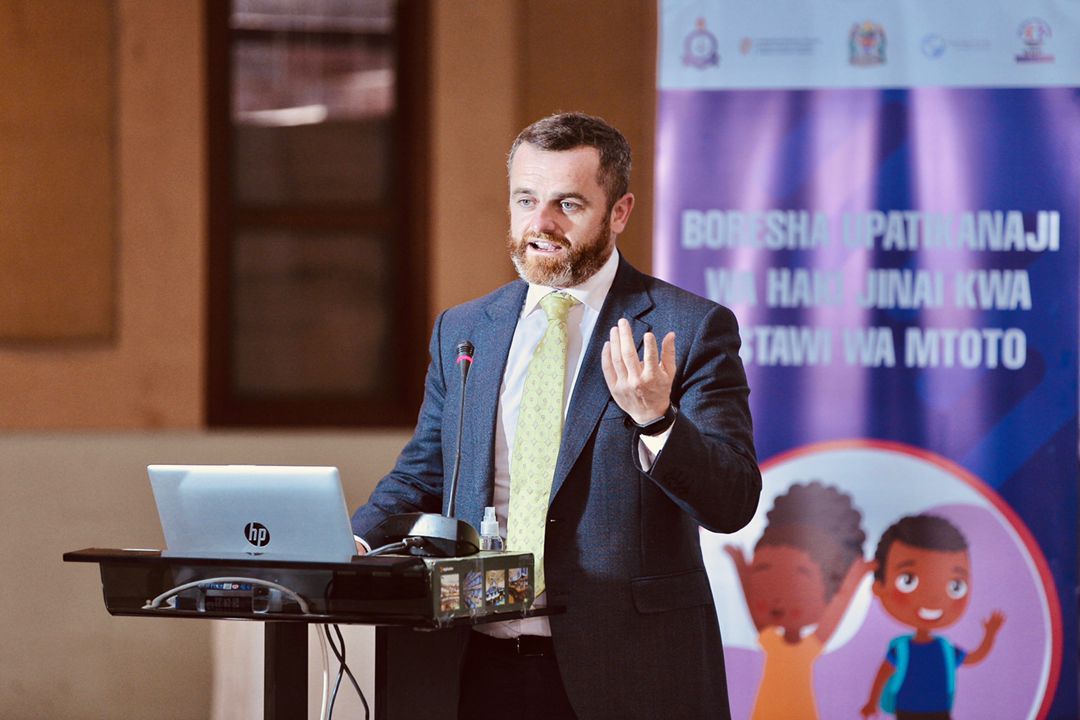 It's not the conventional opening to an Irish Legal News interview. Aonghus Kelly is speaking via Zoom from Kyiv and has recently emerged from the air raid shelter beneath his building. "I'm sitting in my kitchen and just got out of the shelter a little while ago as we've had a lot of air raid sirens… that's where I've been for most of the day," he says matter-of-factly.
Kelly has been in the embattled capital of Ukraine since September of last year and has — as much as one can — become used to the Russian bombardment that began a year ago in February 2022. "Since then, there have been attacks almost every day," he says.
There are also many false alarms: "When the Russians put MiG fighter-bombers in the air at the Belarusian border, that's just 90 kilometres away, so the alarms are triggered automatically."
Unsurprisingly, Kelly's progression in the legal profession has not been conventional. A graduate of University College Cork, he is the executive director of Irish Rule of Law International — a charitable organisation established by the Law Society of Ireland and the Bar of Ireland, later joined by the Law Society of Northern Ireland and the Bar of Northern Ireland — to promote the rule of law in international development, and has been seconded to work at the European Union Advisory Mission (EUAM) to Ukraine for a year by the Irish government.
It's the latest in a series of appointments in the field of human rights and war crimes that has seen Kelly represent Iraqis tortured by British Forces, act for the prosecution in Bosnia and Kosovo, and work as a defence lawyer in the Extraordinary Chambers in the Courts of Cambodia — the so-called Khmer Rouge court.
Neither Ukraine nor Russia are signatories to the Rome Statute which established the International Criminal Court (ICC), but with more than 50,000 crimes having been lodged with the Office of the State Prosecutor in Ukraine since the Russian invasion, Kelly is part of a team of seven Irish legal and security personnel with chief of staff Maura O'Sullivan, a former garda from Limerick, helping Ukraine prepare for future war crimes trials.
The Irish don't, Kelly points out, have an executive function. "The Ukrainian prosecutors obviously have to make the decisions as it's their country," he explains, adding that while some very serious cases may be sent to the ICC or elsewhere, most will be dealt with in Ukraine.
"We're working with other interested parties in that space," he adds. That includes the Atrocity Crimes Advisory Group (ACA) for Ukraine, which was set up last year to directly support the efforts of the War Crimes Units of the Office of the Prosecutor General of Ukraine (OPG), documenting, preserving, and analysing evidence of alleged war crimes and other atrocities committed on the territory of Ukraine with a view toward criminal prosecutions.
Kelly has a deep distrust of the word 'expert'. "How do you define what an expert is — and when you are allegedly an expert does that mean you've stopped learning?" He certainly hasn't, with a thirst for knowledge that has included him qualifying as a solicitor in Ireland, Northern Ireland, England and Wales, an attorney in Cambodia and as a barrister and solicitor in New Zealand as well as gaining the Diplôme d'Études en Langue Française issued by the French Ministry of Education and a Master's degree in international human rights law at the Irish Centre for Human Rights at the University of Galway.
Education is something of an obsession for the boy who boarded at Clongowes Wood College, the alma mater of James Joyce, and is now studying for a second Master's in sustainability leadership at the University of Cambridge.
"I get up for the morning and try to study for an hour before I walk to work which, depending on which office I'm working in, can be either two minutes or about 20 minutes away." Given the missile attacks which recently increased in ferocity after EU and US pledges of tanks for Ukraine's army, it's hardly the average stroll.
He references the college as part of a life-long engagement with social justice. Fr Peter McVerry, who also attended Clongowes, opened a hostel for homeless boys in 1979, which became his life's work and inspired the young Kelly.
"I was interested in English, in debate and interested in trying to do something that would make the world a tiny bit better, an ideal that was given to me by my parents and subsequently by my education," he recalls.
While the depiction of the war on 24-hour TV news channels naturally determines our immediate reactions, there are other destructive corollaries of the conflict. "There is also the crossover of war crimes and environmental crimes which is very concerning given the very grave problems our planet faces," Kelly says.
He recalls seeing the lasting effects of Agent Orange in Cambodia. "I've also lived in Kosovo where the effects of organised crime after conflict are still apparent and when we went hiking during the weekends in Bosnia one of the first things we did was consult a mine map to make sure the route was a safe one."
Then there is the pollution of soil and ground water with chemicals, not as immediately obvious but nearly just as damaging, he stresses, as the terrible crimes that are front and centre.
It's a topic about which Kelly is passionate. "We're in a very deep hole when it comes to climate change, the biodiversity crisis and the many things that will flow from that and are already seeing resultant wars and increasing mass migration."
He has spoken about the continuing importance of revealing the truth and of the importance for those who believe in that of also believing in the right to fair representation and a fair trial. When working for the defence in Cambodia, he says some of his colleagues from the civil law tradition saw 'crossing the fence' from the prosecution side as almost sacrilegious.
"If you believe in the system though, both sides are necessary and needed and I hold to maxims such as 'it's better for 10 guilty men go free than for one innocent man to be imprisoned'. I'm glad that Lady Justice is blindfolded as she holds the scales and we — in Ireland, Britain, or most countries in Europe — are the lucky ones. Most of the world never gets the chance to have a fair trial."
He plans to travel to Cambridge next month for his next series of in-person lectures and interactions with fellow students after spending St Patrick's Day in London with relatives and friends. "Given the situation here, things need to be a bit flexible… so we'll see."
The time difference between Ireland and Ukraine plus the curfew in Kyiv means Kelly gets to see more sport on TV — mostly rugby and Gaelic football. "I'm back by 10pm which is 8pm at home and because everything closes by 11pm at the absolute latest I'll probably be watching Ulster play tomorrow, Connacht on Saturday and then the Six." And while air raid sirens go off and there are occasional power cuts, he says that in general, "my life here is grand".
In the meantime, there's much more work to do: "Our Ukrainian colleagues need all the help they can get — although they have great tenacity and enormous skills, they still face a monumental task. And while I can get on the train to Poland then take a flight to Ireland if I choose, for them it's a very different situation… their country is being destroyed."