Law Society announces winners of Justice Media Awards 2022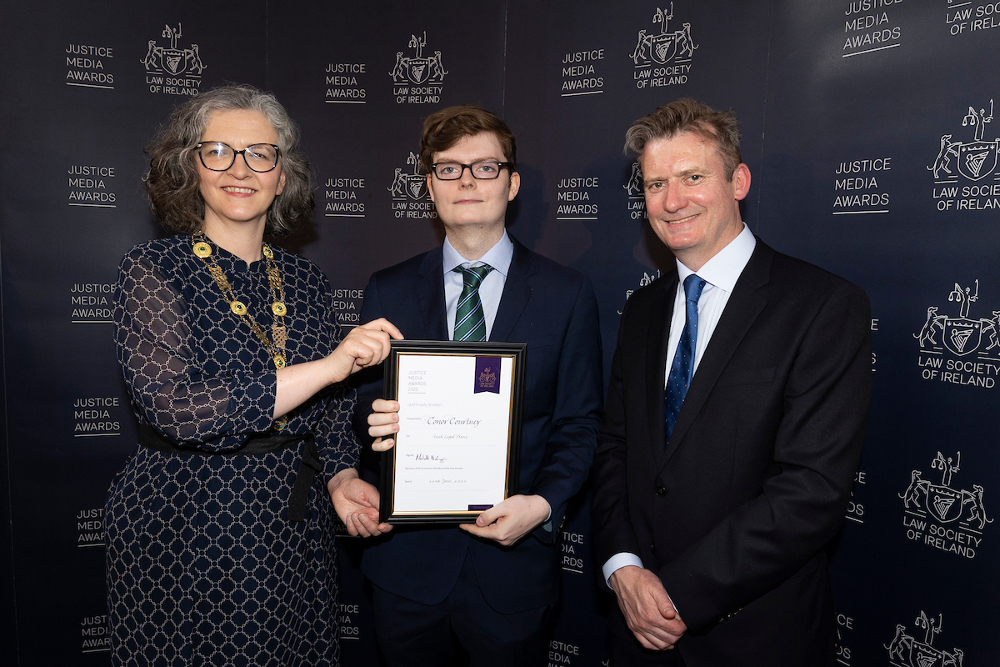 The Law Society of Ireland has announced the winners of the Justice Media Awards 2022 following an awards ceremony which took place at the Law Society yesterday.
The top award was presented to Mary Carolan and Simon Carswell for their Irish Times article 'Inside the District Courts'. This article was selected from 277 entries, winning the print/online journalism (daily) category as well as the overall award.
Coercive control, equality rights and the Kevin Lunney abduction trial were among the key topics covered across the 15 award categories.
Irish Legal News' very own case reporter Conor Courtney was awarded a merit certificate.
The judges said of him: "This newcomer journalist has shown great talent and expertise in his ability to cover a range of topics, including some non-traditional reporting."
President of the Law Society of Ireland, Michelle Ní Longáin, said: "It is heartening to see such a high calibre and breadth of voices covering legal issues in Ireland across national and regional media.
"Legal journalism wears many hats. Whether it is highlighting gaps in legislation, increasing legal literacy or amplifying the voices of victims, the Law Society is proud to support and champion legal journalism.
"This year's winning entry, Inside the District Courts, provides a detailed explanation of the operations of the courts each day. With valuable insights and access to the judiciary, it gives a broad perspective on the range of societal issues before the District Courts as well as a greater understanding of the daily operations of the Courts Service.
"Improving access to justice is a priority of the Law Society and to achieve this we need significant investment in both infrastructure and personnel in the Courts Service. This article neatly highlights the real challenges facing the court and the implications of an overloaded and under resourced system," she said.