NI: Law Centre NI moves to new Belfast premises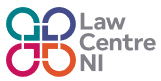 Law Centre NI has moved to new premises in Belfast with effect from today.
The charity offers free independent legal advice and assistance in the areas of employment, social security, health & social care and immigration & asylum.
It is now located at 2nd Floor, Westgate House, 2-4 Queen Street, Belfast, BT1 6ED.