Lady Hale suggests 'time has come' for British judges to leave Hong Kong court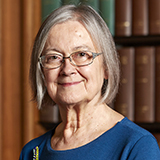 The time may have come for British judges to resign from judicial roles in Hong Kong, former Supreme Court president Lady Hale has suggested.
The retired judge's measured remarks, reported by The Times, come as the territory's authorities bid to overturn a court ruling allowing a British barrister to defend a publisher who faces prosecution under controversial national security laws.
Two serving British judges stood down from Hong Kong's Court of Final Appeal in March, but six former British judges remain on the bench.
In a joint statement in April, Lord Phillips of Worth Matravers, Lord Neuberger of Abbotsbury, Lord Sumption, Lord Walker of Gestingthorpe, Lord Collins of Mapesbury and Lord Hoffmann said they believed their "continued participation" as judges of the court was "in the interest of the people of Hong Kong".
Lady Hale has now said: "Obviously there's going to come a stage where [British judges] are asked to apply and enforce unacceptable laws, and some of us might think that that stage has already come."
After her retirement from the Supreme Court in 2020, Lady Hale also briefly sat on Hong Kong's Court of Final Appeal. She stepped down last summer, saying that her decision was not politically motivated.