UK: Lady Hale calls for women to make up 'at least half of judges'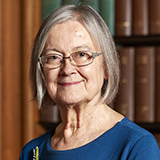 At least half of the UK's judges should be women, the President of the UK Supreme Court, Lady Hale, has said.
The UK's most senior judge made the remarks while reflecting on the centenary of women's entry to the legal profession at an event hosted by the Association of Women Judges (AWJ), The Telegraph reports.
Lady Hale, who also told the meeting that she "never hesitated" to call herself a feminist, said that, as women make up half the population, "we should be half of judges at least".
At present, just three of the 12 justices of the UK Supreme Court are women.
Lady Hale said: "We should be equal to men and have equal rights. Everybody in this room should be a feminist.
"I find it quite astonishing that it took until 2004 to put a woman in the House of Lords. That's because they weren't looking hard enough. Now they realise things have to change and have changed considerably."
The event was also addressed by Baroness Elizabeth Butler-Sloss, the first woman on the Court of Appeal bench in England and Wales.
She told attendees that she was not a feminist, adding: "I didn't really think about gender very much. The only time I thought about it was when I was called to the district bench."