NI: Judgment reserved on whether teen suspect suffered discrimination after being named by media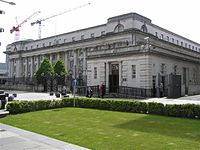 The High Court in Belfast has reserved judgment in a case concerning whether a teenager suffered discrimination when he was named as a criminal suspect by media outlets.
JKL, from Co Antrim, was arrested in October 2015 when he was 15 years old in connection with the high-profile TalkTalk hack.
He was named as a suspect by media outlets after being released without charge, but became entitled to anonymity when he was subsequently charged with an offence.
Lawyers for JKL say he could not have been named if Northern Ireland ministers had signed the commencement order for section 44 of the Youth Justice and Criminal Evidence Act 1999, which has already taken effect in the rest of the UK.
A previous legal bid to compel the Department of Justice to implement the law on the basis of privacy rights failed, but the High Court is now considering whether JKL suffered discrimination in violation of Article 14 of the European Convention on Human Rights.
Mr Justice Adrian Colton reserved judgment at the end of a hearing yesterday, The Irish News reports.